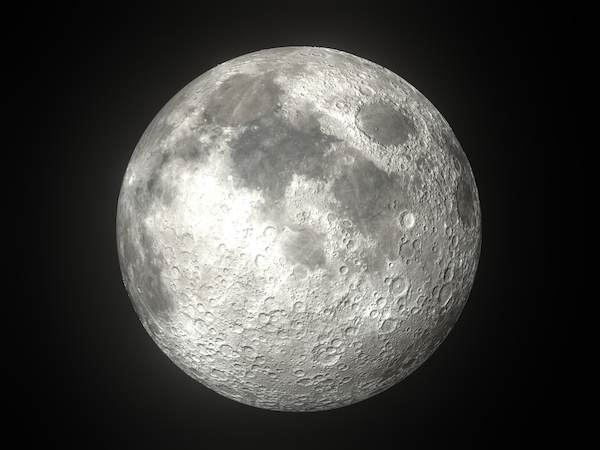 Image via Shutterstock
Auction house Christie's believes it currently possesses the largest slice of the Moon to ever come to market, and has valued the 13.5-kilogram (30-pound) piece at £2 million (US$2.5 million) for a private sale.
The sample, named NWA 12691, is the "fifth-largest piece of the Moon on Earth,"
announced
James Hyslop, Christie's Head of Science and Natural History. He detailed that the lunar meteorite is "much larger" than any moon hunk obtained by Apollo astronauts.
The meteorite was unearthed in North Africa by an anonymous researcher two years ago, but is believed to have fallen to Earth during a meteorite shower over Western Sahara, in between Algeria and Mauritania, hundreds or thousands of years ago.
Researchers believe that the same shower, involving the collision of the Moon with an asteroid or comet, caused at least 30 Moon rocks to land on Earth.
Aside from the 400 kilograms (881.8 pounds) of Moon rock collected by the Apollo program in the 1960s and 1970s, there have only been an additional 650 kilograms (1,433 pounds) of lunar meteorites recorded to exist on this planet, making Moon rock among the rarest substances found here. "They would all fit comfortably inside a very small car," Hyslop described.
Lunar meteorites hail from the near-surface areas of the Moon, and are made up of some minerals rare or unavailable on Earth.
"Every time I see it in the warehouse, the sheer size of it bowls me over," Hyslop concluded. "The experience of holding a piece of another world in your hands is something you never forget."
View this post on Instagram
'The experience of holding a piece of another world in your hands is something you never forget,' says James Hyslop, our Head of Science & Natural History (@thefineartofscience), of NWA 12691, one of the largest lunar meteorites in existence.⠀ .⠀ Moon rocks are among the rarest substances on Earth. They arrive on Earth after being blasted off the lunar surface by the collision with an asteroid or comet. At 13.5kg (30lbs), NWA 12691 is the fifth largest piece of the Moon on Earth, larger than any returned by the Apollo programme.⠀ .⠀ NWA 12691 — The Fifth Largest Piece Of The Moon On Earth, Lunar Feldspathic Breccia, 13.535kg, Sahara Desert, Western Sahara. Price upon request.⠀ .⠀ Available via Christie's Books & Science Private Sales. Follow link in bio ⬆️ for our Private Sales Viewing Rooms.⠀ .⠀ #christiesprivatesales #moon #moonrock #science #space #art #collecting #collector #collectable
[via
Smithsonian Magazine
, images via various sources]