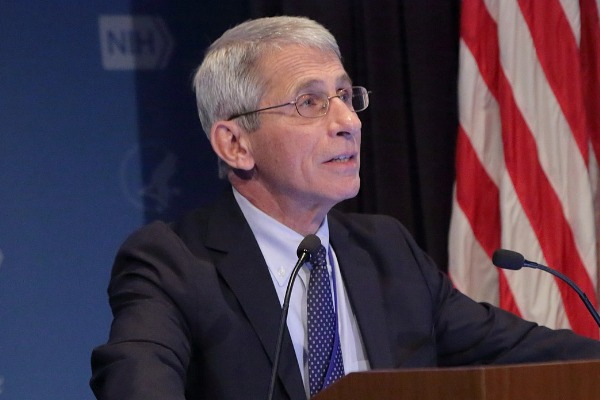 Image via NIAID / CC BY 2.0
A portrait of Dr Anthony Fauci that was painted by Brooklyn artist
Jeremy Penn
has purportedly been sold for US$15,000, according to
Page Six
.
Penn has worked on portraits of several personalities including Diane von Furstenberg, Kate Moss, John Galliano, and Karl Lagerfeld in the past. His latest work of Fauci, entitled Anthony 'Scientific Street Cred' Fauci, was completed with "acrylic and spray paint on oxidized mirrored aluminum."
The artist announced on
Instagram
that the whole sum will head towards charities, such as
True Hero Fund
, a organization supporting frontline workers; and
No Kid Hungry
, a nonprofit working on ending childhood hunger.
Take a look at the Dr. Anthony Fauci portrait below.
View this post on Instagram
Anthony "Scientific Street Cred" Fauci 100% of the proceeds from the sale of this painting will go to the following charities: True Hero Fund @trueherofund : An amazing charity that directly supports the heroes that are fighting on the frontline of this war. Read more at trueherofund.org No Kid Hungry @nokidhungry Another amazing charity that is ending childhood hunger by ensuring that kids get the food they need, like healthy breakfast at school and free meals during the summertime. With schools closed and parent's out of work, kids can miss the meals that they rely on. It's important that we support charities like this to ensure that they have the resources to continue this mission to leave No Kid Hungry. Read more at nokidhungry.org Painting Details 30" wide x 46" height Acrylic and Spray Paint on Oxidized Mirrored Aluminum This series I'm working on started with some chemical acids on metals. While my work has taken many shapes and forms over the years, the consistency is my process. Each and every time it unfolds and I don't always know where it will end. This piece started as a splatter of chemical reactions. I didn't have a plan for it, but once the base layer was done we were settled into quarantine and it became apparent that Fauci was for this piece. In a time of such uncertainty he became the voice of stability. Sanity served. I pride myself in my mindfulness practice and my background in the field. When the world is upside down it can be hard to find perspective. Latching onto reason is where I find my ground and from there I can begin to create. Stay Home & Stay Safe. #nokidhungry #supporttrueheroes #trueherofund #stayhome #anthonyfauci #fauci
[via
Page Six
, cover image via
NIAID / CC BY 2.0
]