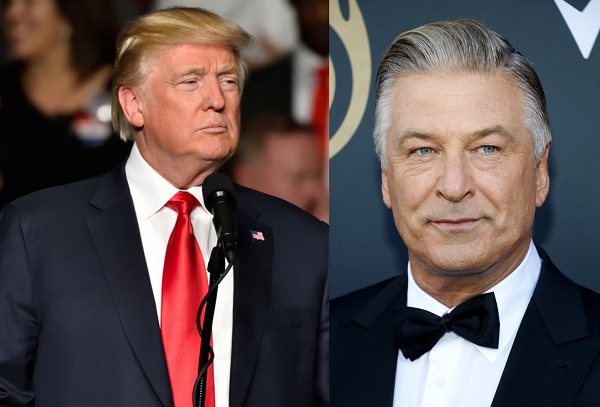 Left image via Evan El-Amin / Shutterstock.com, right image via Tinseltown / Shutterstock.com
Alec Baldwin returned on the season finale of Saturday Night Live with his imitation of President Donald Trump.
This time, he gave a commencement speech via Zoom to say how honored he was to have become a "valedictator," before feigning to drink bleach to
ward off the coronavirus
.
"Congratulations to the class of
COVID-19
," Baldwin announced to graduates of St. Mary Magdalene By-The-Expressway.
Baldwin's 'Trump' was picked to give the speech after the students' original choice, Barack and Michelle Obama, were unable to attend the event. The principal, played by Kate McKinnon, elected the student's eighth choice, Trump, instead of other preferences like Guns N Roses's Axl Rose and even Elon Musk's
newborn baby
.
Broadcasting from the "White House," Baldwin's 'Trump' appeared in the Zoom chat wearing a red MAGA hat as he thanked "all the people applauding," though, in reality, there was only one student clapping. "What incredible energy and excitement I'm feeling right now," he told graduates.
'Trump' congratulated them and said they had a lot to look forward to in the workforce. He then listed several jobs that are supposedly in demand, including "grocery store bouncer, porch pirate, and an amateur nurse."
After going on about Anthony Fauci, he coughed and took a sip of Clorox, which he called "good old invincibility juice." He ended the speech by saying, "Live every day like it's your last because we're going to let this virus run wild.
Palate cleanser. https://t.co/ZBn9arVive
— politicsislife (@pahl_brighteyes)
May 10, 2020
[via
HuffPost
, opening image via
Evan El-Amin / Shutterstock.com
, right image via
Tinseltown / Shutterstock.com
]