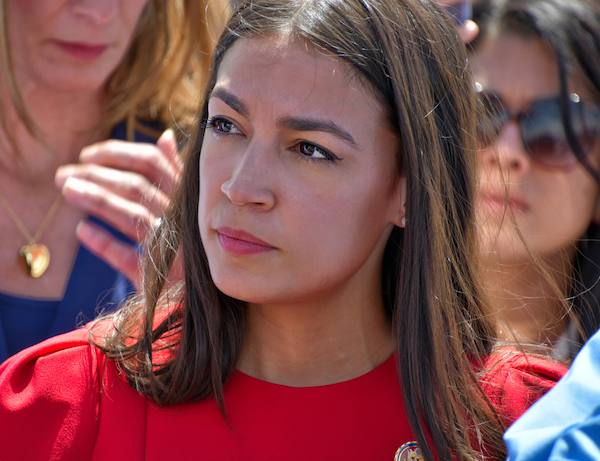 Image via Grossinger / Shutterstock.com
In the midst of a
pandemic
, people from cities across the US are turning their backs on social-distancing guidelines for a cause they feel is far more pressing: fighting for racial justice.
As protesters mourn the death of
George Floyd
and condemn police violence on once-ghost towns, New York City's 14th Congressional District Representative Alexandria Ocasio-Cortez has published a visual guide on staying protected during demonstrations.
The graphic suggests putting on muted layered clothing that covers features or tattoos which can result in easy identification, goggles and a mask to prevent a spread of the virus, a list of emergency contacts written on your body, and heat-resistant gloves. Protesters with long hair are also urged to tie up their tresses to prevent injuries.
To stay safe from possible attacks, the guide advises carrying a bottle of water to get rid of tear gas, in addition to using it to keep hydrated. Bandages and first-aid supplies are also necessary.
Ocasio-Cortez provided more instructions in her social media post's caption, cautioning protesters to only follow directions from grassroots organizers who would be familiar with the process of demonstrations. She additionally encouraged followers to bring along someone else should they choose to protest, and finally, "Stay safe and take care of each other."
View this post on Instagram
BE SAFE. Here's our guide on being prepared for safe protests. PLEASE READ ⬇️ . 1. LOOK OUT FOR THINGS THAT DON'T SEEM RIGHT. There are increasing reports and investigations that white supremacists may be infiltrating these protests, breaking windows and destroying property. If anything seems off to you, DOCUMENT IT. Always check who is organizing. . 2. FOLLOW THE DIRECTIONS OF GRASSROOTS BLACK ORGANIZERS. They have been at this a long time and are disciplined in the ropes of community organizing and demonstration. It IS a discipline. Follow trusted leaders whose goal has been the focused pursuit of justice. If they just showed up, that's a red flag. . 3. HAVE A BUDDY. Make sure someone is keeping an eye on you and check in on them. . 4. STAY SAFE and take care of each other.
[via
Cool Hunting
, images via various sources]