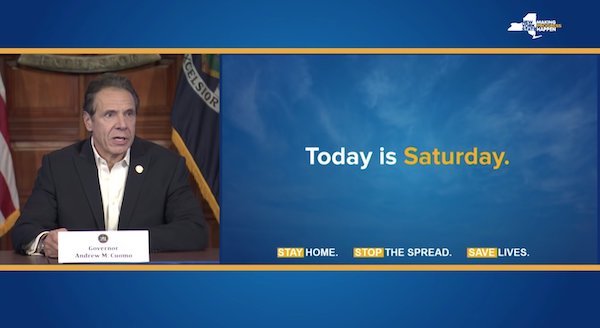 Image via Andrew Cuomo
Andrew Cuomo has achieved a near-impossible feat: he successfully made people look forward to seeing PowerPoint slides. The 56th Governor of New York's presentations, though generic-seeming to adhere to the state's branding guidelines, are iconic.
They're blue with the occasional clipart and feature Arial in white as the standard font. For dramatic effect, the team either throws in Proxima Nova or highlights text in gold.
Andrew Cuomo's press conferences have been masterful presentations at crisis communication management. What's also been helpful are the slides his staff puts together ahead of his updates. Before he makes a point, the point is previewed. (1/2) pic.twitter.com/TDWpRPRpUi
— Bαɾɾყ E. Fιҽʅԃʂ (@barryefields)
March 27, 2020
And sometimes, Cuomo scolds you in all-caps.
Reminder: pic.twitter.com/AgcpKgDemr
— Andrew Cuomo (@NYGovCuomo)
May 3, 2020
I'm seriously loving these slides from @NYGovCuomo.

Can't wait to use "you are wrong" or don't "be stupid" on my next slides pic.twitter.com/jA0xB5vIzL
— Travis Whitfill MPH (@twhitfill)
May 3, 2020
His presentation slides have gained a following of their own, the team at design consultancy Pentagram included. Nevertheless, Pentagram partner and data expert Giorgia Lupi, project coordinator Phil Cox, and visualization designer Sarah Kay Miller, have taken up the challenge of
improving the slides
further.
"Even with their appreciation for the governor's approach, the designers saw the potential to improve the visualizations of his slide deck to more effectively and vividly communicate these important statistics," Pentagram explained. "They wanted to inject more nuance, context and humanity into the governor's various graphs and charts, without sacrificing the exactitude the public has come to depend on."
Their concept focuses on why Cuomo's slides are already so powerful—they're legible and simple. However, simplicity and a loss of information often come hand-in-hand, and that's not what Lupi wants.
The designers thus thought to introduce new visual aids to their slides for added context and emphasis, as well as highlight insights "hiding in the data" that would probably be critical for New Yorkers to know about.
The team also revamped three mainstay diagrams in Cuomo's presentations: a bar graph representing hospitalizations, a death toll list, and a diagram depicting the average rate of
COVID-19
infections.
The designers additionally introduced new concepts for COVID-19 tests that indicate the ratio of positive diagnoses.
At the same time, Pentagram retained the key aesthetics of the slide deck in its speculative redesign, such as the typefaces based on New York State's guidelines and the color palette.
Original charts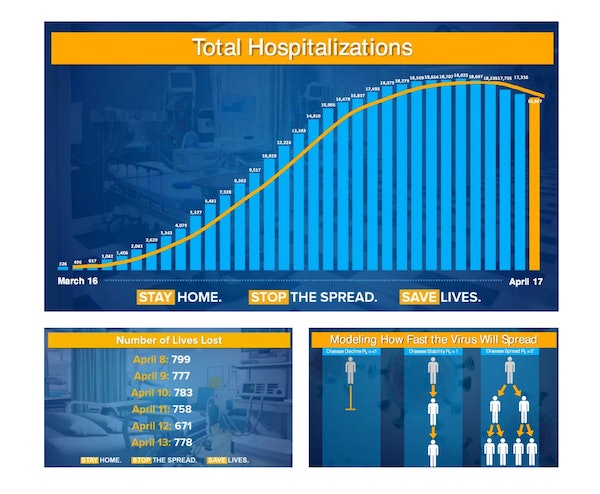 Image obtained by Pentagram
Pentagram's speculative redesign
.@giorgialupi & team love the charts @NYGovCuomo shares every day in his Covid-19 briefings, but as information designers, can't help thinking about how the graphics might show more context, nuance & humanity. So they've tried redesigning them https://t.co/nAEC54cUhW pic.twitter.com/Hv4YhPTgxm
— Pentagram Design (@pentagram)
May 1, 2020
[via
Print Magazine
, images via various sources]