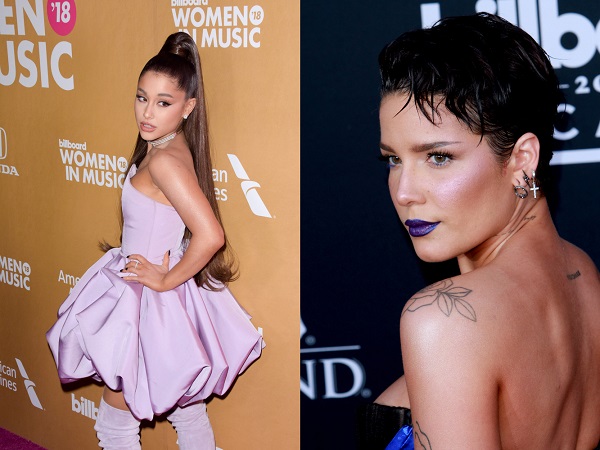 Left image via Debby Wong / Shutterstock.com, right image via CarlaVanWagoner / Shutterstock.com
Celebrities like Ariana Grande and Halsey have stepped in to raise awareness in the wake of the tragic death of
George Floyd
.
Halsey detailed her experience on social media, revealing that she had sustained a bruise after being shot by a rubber bullet. "A true patriot is someone who will rebel against the government if it becomes necessary, to protect the greater good of their fellow citizens. We are patriots," Halsey tweeted last Saturday. "If you are not, you are a coward. This is what democracy looks like."
She attended the Black Lives Matter rally in Los Angeles, and live-streamed the protestors' altercation with police officers. Halsey explained that she was not arrested, but she was "shot, gassed and antagonized," before adding that many of the participants were not safe and were in custody. She also showed a photo of her bruised leg.
Ariana Grande also joined in on a protest, where she wore a mask and carried a sign that read "Black Lives Matter."
Model Emily Ratajkowski, too, marched the streets of Los Angeles, and said that the police were "militarized and civilians had no weapons." She shared, "These are not violent protests, but they become violent where an actual army is deployed."
Michael B. Jordan and Kehlani were among the celebrities to had joined in the protests, as well.
.@ArianaGrande joins the LA protest for the #BlackLivesMatter Movement today.

pic.twitter.com/2shwVRp7dq
— Pop Crave (@PopCrave)
May 31, 2020
this is Ariana Grande everyone. ARIANA GRANDE pic.twitter.com/3sEZ6RDCXr
— yoobi⁷ (@euphoriaswt)
May 31, 2020
.@Halsey attends the #BlackLivesMatter protest in LA where policemen were shooting rubber bullets at protesters.

pic.twitter.com/FMF2YLnyjv
— Pop Crave (@PopCrave)
May 31, 2020
fired rubber bullets at us. we did not breach the line. hands were up. unmoving. and they gassed and fired. pic.twitter.com/K8YauF0APn
— h (@halsey)
May 31, 2020
I WAS NOT ARRESTED.

Im safe. There were ppl I had to get to safety as many of them have VISAs. Myself + many of my peers were shot, gassed + antagonized. The frontline was calm + did not provoke

BUT MANY ARE NOT SAFE + MANY ARE IN CUSTODY

DONATE TO BAIL ORGS!!!
I AM CURRENTLY
— h (@halsey)
May 31, 2020
#fairfax #JusticeForGeorgeFlyod #defundthepolice pic.twitter.com/IWhXdweAZ2
— Emily Ratajkowski (@emrata)
May 30, 2020
Show up pic.twitter.com/jl9fkEh4eU
— TINASHE (@Tinashe)
May 30, 2020
Michael B. Jordan out here protesting! pic.twitter.com/mSGEPwB1Pb
— now why i thought this was jorja (@0v0Mani)
May 30, 2020
View this post on Instagram
LIVE. NO JUSTICE, NO PEACE. LOS ANGELES MAY 30TH 2020. RESPECT EXISTENCE OR EXPECT RESISTANCE. #BLACKLIVESMATTER OUTSIDE INSIDE TODAY YESTERDAY TOMORROW AND FOREVER. POWER TO THE PEOPLE.
Cops didn't like me filming the burning car so they came at me with batons. Hitting my bike.
Ahhm here's the audio pic.twitter.com/tfaOoVCw5v"
— John Cusack (@johncusack)
May 31, 2020
[via
Teen Vogue
, opening image via
Debby Wong / Shutterstock.com
,
CarlaVanWagoner / Shutterstock.com
]