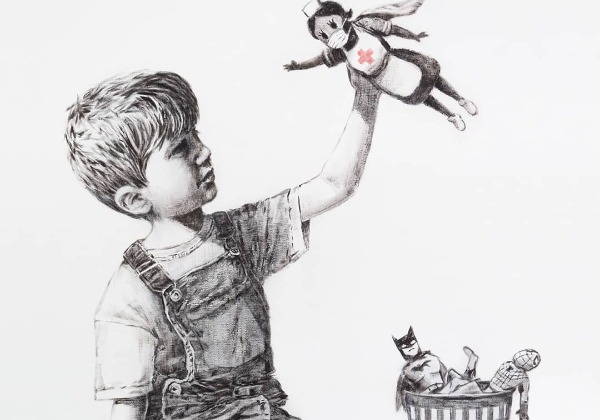 Image via Banksy
Banksy's
Game Changer
painting, a tribute to healthcare workers, was reportedly almost stolen from Southampton General Hospital in the UK.
The attempted heist was reported on 8 May 2020, a couple of days after the work was donated and installed in the hospital. The painting was set to go on auction to raise funds for the UK's National Health Service.
A suspicious man was seen loitering around the painting several times as security guards watched over the iconic work through the surveillance cameras according to
The Sun
.
The publication claimed that the security guards had asked a supervisor if they should approach him after noticing that he had walked past and glanced at the painting at least five times.
However, the man was soon removed from the premise to avoid any chance of robbery. The painting, featuring a kid playing with a doll dressed in a nurse's uniform with superhero figurines chucked at the side, is anticipated to raise at least
US$6 million
at auction.
View this post on Instagram
[via
Artsy
, cover image via
Banksy
]