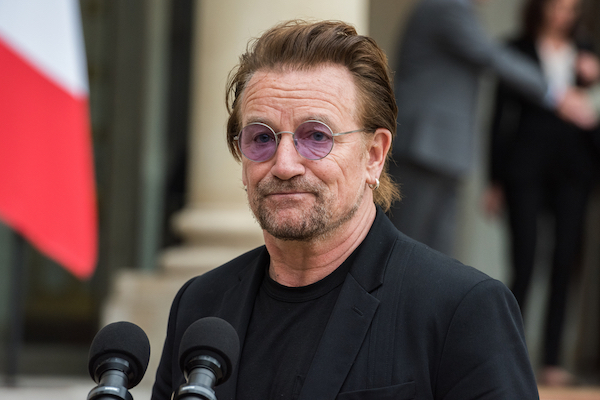 Image via Frederic Legrand - COMEO / Shutterstock.com
In celebration of his 60th birthday, Bono spent the day to express gratitude to 60 artists that have impacted him over the years via a playlist called '60 Songs That Saved My Life'.
The U2 frontman's playlist features classic hits like Elvis Presley's Heartbreak Hotel, The Beatles' I Want to Hold you Hands and John Lennon's Mother.
The rockstar also surprisingly featured some pop bops such as Billie Eilish's everything i wanted, Kanye West's Black Skinhead and Lady Gaga's Born This Way.
"These are some of the songs that saved my life," Bono
wrote
in a statement. "The ones I couldn't have lived without… the ones that got me from there to here, zero to 60…" he added.
Bono also promised to pen a heartfelt fan letter for each song in a bid to express his admiration. He has already shared six letters on
U2's website
for Billie Eilish, David Bowie, Kraftwerk, Daft Punk, Luciano Pavarotti and Massive Attack.
Bono's letter for Bowie's Life on Mars was addressed to Bowie's son, Duncan. He divulged how the song answered a far more important question when he was 13 years old. "Is there intelligent life on earth? It was proof as far as I'm concerned," he wrote in the note.
The playlist is
available on
 music platforms like Spotify and YouTube Music, and the accompanying letters can be read on
U2's official website
.
View this post on Instagram
[via
CNN
, cover image via
Frederic Legrand - COMEO / Shutterstock.com
]