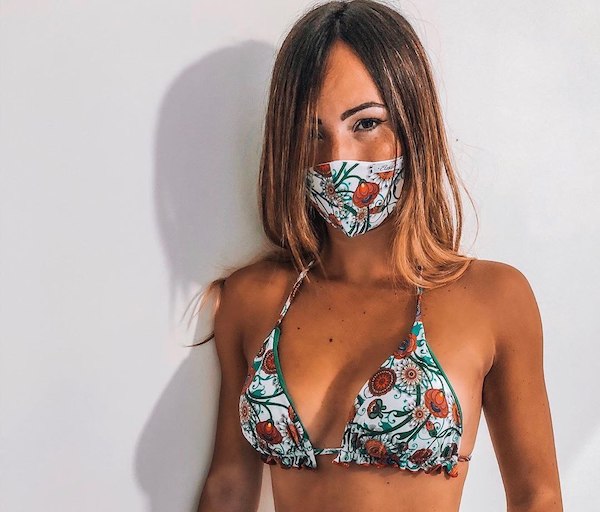 Image via Elexia Beachwear
People in Europe are doubling down, nay, tripling down, on keeping covered against the spread of
coronavirus
, and the 'Trikini' is one way to do it.
According to
10 daily
, a three-piece swimsuit design comprising a bikini and a matching face mask is making its rounds on European social media.
The Trikini was conceptualized by Italian swimwear label
Elexia Beachwear
as a joke, but the brand began receiving requests to turn it into a reality after photos modeled by the owner's daughter went viral, so it did.
The owner of the store, Tiziana Scaramuzzo, told local publication
Centropagina
that the idea came about in an attempt to cheer her employees up during this unpredicable time in Italy.
Thus far, the Trikinis arrive in single-hued, floral, and paisley designs, as well as European sizes 42 (American size nine), 44 (10) and 46 (12). The matching face masks will take you back €10 (US$11) on top of the bikini prices.
View this post on Instagram
𝕋𝕣𝕚𝕜𝕚𝕟𝕚 𝟚𝟘𝟚𝟘 Speriamo di andare al mare con il bikini, Ma in attesa di nuove disposizioni noi ci muniamo del Trikini!!!! 🤣 #elexia #nonvilasciamomai #elexiabeachwear
View this post on Instagram
View this post on Instagram
View this post on Instagram
• Triangolo fisso con coppe estraibili TAGLIA SUPERIORE: 42 44 46 TAGLIA INFERIORE Brasiliana: 42 Slip con Volant: 42 44 46 Slip con laccetti: 42 44 46 Slip classico: 44 46 48 50 Costo completo bikini: 45 € Costo mascherina abbinata:10€ #elexiabeachwear
View this post on Instagram
* Triangolo scorrevole con coppe estraibili * Slip Vita Alta o Brasiliana o Slip con laccetti laterali annodabili TAGLIA SUPERIORE: 42 44 46 TAGLIA INFERIORE Brasiliana: 42 Slip laccetti: 42 Vita Alta :42 44 Costo completo bikini: 50€ Costo mascherina abbinata:10€ #elexiabeachwear
[via
10 daily
]