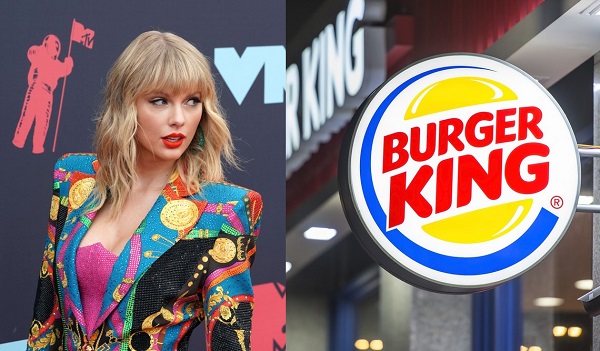 Left image via JStone / Shutterstock.com, right image via Savvapanf Photo / Shutterstock.com
Fans of Taylor Swift were outraged after Burger King took a jab at the pop star on Twitter.
The drama started when a Twitter user asked the fast-food chain to name its "favorite Taylor Swift song," to which the company replied, "The one about her ex."
The remark triggered many of Swift's fans, who claimed the restaurant was being "sexist." Although the tweet has been deleted, many had already taken screenshots and circulated the response online, prompting the hashtag '#BurgerKingIsOverParty' to trend on Twitter.
"All the jokers dressing up as kings #BurgerKingisOverParty'," wrote one Swift fan, who attempted to quote a line from the singer's Call It What You Want. Another fan wrote, "Every tongue that rises against Taylor Swift shall fall."
Several Twitter users found the argument "ridiculous" and urged her fans to focus on more pressing issues. "Please tell me we're not out here canceling a fast food joint over this girl. It's a joke," one frustrated customer said. "And y'all talking about how this is Burger King sl*t-shaming? Y'all need a ladder because this is a reach."
Another user referenced the recent murder of George Floyd. "There's black people that are dying because of racist police officers and instead of raising awareness, y'all are trying to cancel Burger King," a Twitter user reasoned.
The feud went to the next level when rival McDonald's stepped in to defend the Swifties. "We would never," McDonald's tweeted, insisting that fans would never find it throwing shade at Swift.
In an attempt to mend the relationship with Swift's fans, Burger King released a deal on its app. "Let's shake it off. Celebrate #BurgerKingIsOverParty with the $3 shake + fries deal in the app," the chain tweeted.
You thought Alicia Fox stans were annoying. Taylor Swift stans are trying to get Burger King cancelled over this. #BurgerKingIsOverParty pic.twitter.com/4zXu4YLG7M
— SW - The Latest Wrestling News (@SlicedWrestling)
May 27, 2020
All the jokers dressing up as kings#BurgerKingisOverParty pic.twitter.com/wkM03qa1LX
— 𝓛𝓸𝓿𝓮, John (@13DearJohn)
May 27, 2020
Fun Fact: Taylor Swift has outsold and ended anyone who has ever come for her since the beginning of her career. Every tongue that rises against her, shall fall. #Tayvoodoo pic.twitter.com/wzy2h8q6sF
— Taylor Swift Facts (@TSwiftFTC)
March 23, 2020
McDonald's really trying to cancel Burger King over a Taylor Swift joke lol pic.twitter.com/qnJ2prNWy2
— Dennis Feitosa (@gowithdennis)
May 27, 2020
Taylor Swift stans tryna cancel Burger King when we're tryna deal with racial injustice and police brutality? They're pathetic. #burgerkingisoverparty pic.twitter.com/qS3Yw1hyKW
— Alien X (@AIienX_)
May 27, 2020
Please tell me we're not out here cancelling a fast food joint over THIS girl it's a joke. And y'all talking about how this is Burger King Sl*t shaming? Y'all need a ladder bc this is a REACH. #burgerkingisoverparty ??? pic.twitter.com/6L3Wc7enSp
— Avery Omoto (@powerbottomaf)
May 27, 2020
There's black people that are dying because of white racist police officers and instead of rising awareness and talk about it, y'all are trying to cancel Burger King... unbelievable #BurgerKingIsOverParty pic.twitter.com/0JHsZgLYwK
— 🅼 (@glossywife)
May 27, 2020
I'm confused, Burger King was just saying they like all of her songs, why are people getting pissed? #BurgerKingIsOverParty pic.twitter.com/J8l0W1Culw
— Chandler Joshua (@sad_boi_chan)
May 27, 2020
let's shake it off. celebrate #BurgerKingIsOverParty with the $3 shake + fries deal in the app https://t.co/YNmTeVMjI5

ᵃᵗ ᵖᵃʳᵗᶦᶜᶦᵖᵃᵗᶦⁿᵍ ʳᵉˢᵗᵃᵘʳᵃⁿᵗˢ ᵒⁿ ᵗʰᵉ ᴮᴷ ᵃᵖᵖ ʷʰᶦˡᵉ ˢᵘᵖᵖˡᶦᵉˢ ˡᵃˢᵗ
— Burger King (@BurgerKing)
May 28, 2020
[via
Distractify
, opening image via
JStone / Shutterstock.com
,
Savvapanf Photo / Shutterstock.com
]