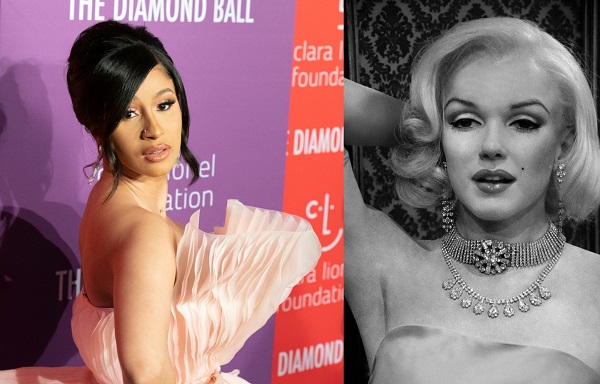 Left image via lev radin / Shutterstock.com, right image via Javi Az / Shutterstock.com
Cardi B channeled Marilyn Monroe with a voluminous blonde bob in her recent Instagram post.
The rapper, however, injected a little of her unique style by giving the updo a two-tone ombré hue. She was seen lounging sultrily on the bed in a plunging black dress, her face sporting full makeup, complete with dramatic smokey eyes and a winged liner.
"Baby I got you," she captioned the photo, which garnered over three million likes. One fan amorously commented, "Looking like a modern day Marilyn Monroe."
Another photo shows the rapper channeling a pinup girl with a tiny pink crop top that matched her bouncy blonde wig and its pink tint.
View this post on Instagram
View this post on Instagram
View this post on Instagram
Red is definitely her color. #MarilynMonroe was radiant as she modeled in a simple red dress and heels for #MiltonHGreene. These photos were taken for @life magazine in 1957. ⁣ ⁣ #MiltonHGreene #LifeMagazine #1957 #RedDress
[via
Cardi B
, opening image via
lev radin / Shutterstock.com
,
Javi Az / Shutterstock.com
]