[Click here to view the video in this article]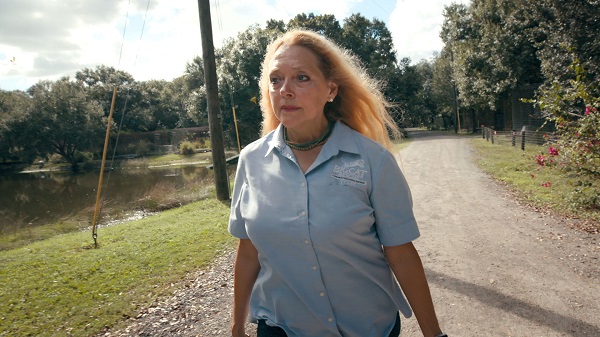 Image via Netflix
Tiger King's
Carole Baskin
was tricked into being in an interview by YouTube prankers Josh Pieters and Archie Manners, who posed as Jimmy Fallon's Tonight Show producers. However, she is taking the stunt in stride.
Baskin has been silent since the release of Netflix's hit show but unexpectedly delivered her first public interview with pranksters who told her she would be a guest on The Tonight Show with Jimmy Fallon.
Baskin, who currently runs the Big Cat Rescue animal sanctuary, revealed in the chat that she had to lay off 50-percent of workers due to the "loss of tourism revenue." She told the duo that she would be at the location every day to care for the animals.
"My daughter and I still come into the sanctuary every day because we have to take care of all the big cats here," she said. "Unfortunately, due to the loss of tourism revenue, we've had to let go of about half of our staff and thankfully all of our animal care is done by volunteers."
Baskin fell for the whole interview prank carried out by Pieters and Manners, but thought it was "clever and fun" when she found out she was tricked into it. She told
US Weekly
that the interview was "suspicious" as the questions "appeared taped."
"I was suspicious as we were doing it because the questions appeared taped. But had no idea it would turn out to be such a fun prank," she told the publication. "It gave us a very welcome good laugh. I appreciate their cleverness and that they created their video in a way that I don't feel was in any way mean-spirited."
Pieters and Manners then revealed that they chose to prank Baskin to show how "easy it was to spoof legitimate opportunities" on the internet. "Here's a chance where we could perhaps interview some high-level talent because we are going under the guise of being a really famous show," Pieters told
Insider
.
"And we thought, why don't we take a shot in the dark and go for the most exclusive, hard-to-reach person in the world, with absolutely no hope of it working?"
[via
Comicbook
, opening image via
Netflix
]