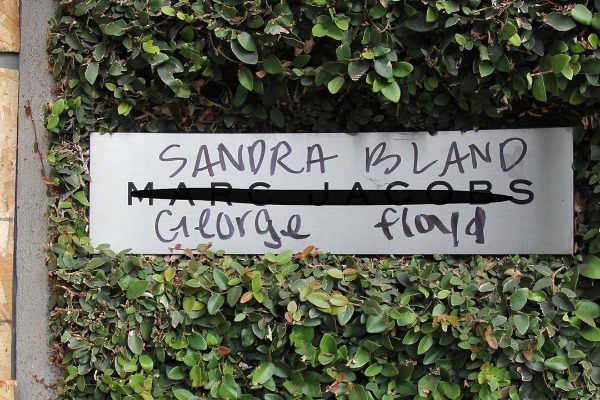 Image via Marc Jacobs
As protests carry on following the killing of
George Floyd
by a Minneapolis police officer, many luxury fashion stores were subjected to looting and damage. Several brands, including The Hundreds, Round Two, and Marc Jacobs, were affected by the chaos.
Despite the upheaval, Marc Jacobs showcased his support to protestors.
On Instagram
, he shared a photo of the brand's logo plaque being defaced with George Floyd and Sandra Bland's names, and captioned the post, "A life cannot be replaced. Black Lives Matter." Like Floyd, Bland was killed in police custody back in 2015, and had experienced racial injustice and lost her life.
Virgil Abloh wasn't pleased with the looting and rioting, as he commented on his friend Sean Wotherspoon's post, which featured Wotherspoon's store Round Two and Round Two Vintage being damaged and ransacked. "This is f**ked up," Abloh
wrote
as he detailed his friend's efforts to build up the fashion brand, only to have it destroyed by protestors.
Bobby Hundreds, owner of The Hundreds, shared a
photo
of his store being damaged with flames ignited at the storefront.
"I am not angry about the devastation. When commenters ask how I can condone rioting and looting, I categorically do not. Yet I am not surprised," he wrote on his post. He detailed how, as a society, people have been taught to value "hoodies" over "their relationships, their financial education, their careers."
View this post on Instagram
A life cannot be replaced. Black Lives Matter. Marc Jacobs. Los Angeles, CA. May 31, 2020
View this post on Instagram
I grew up here. We found our community here. We established our brand here. So, this is emotionally very difficult to watch and process. But, I am not angry about the devastation. When commenters ask how I can condone rioting and looting, I categorically do not. Yet, I am not surprised. When people ask why I'm not upset that my business is impacted or my neighborhood pillaged, I tell them that my disgust over injustices in this country eclipses any other temporary feeling. Don't ever stop protesting (I never said "rioting" or "looting"). Dissent is a bona fide American act. Use your voice – people died for that right. Stand up for yourself and others. EVEN IF YOU BRING THE FIRE TO MY DOORSTEP, I WILL STAND IN IT WITH YOU // And this: is anyone truly surprised that 2020 looters would not set fires or rob banks, instead opting to steal Bearbricks and sneakers? We feed these kids this bullshit all day. Convince them they need things they don't, that they are not enough without a brand on their back. We TAUGHT THEM to value hoodies above their relationships, their financial education, their careers. So, where will they run first in the night? It's not the bookstores. // (Disclaimer: First, I don't speak for all shop owners. This is my personal opinion and perspective. Second, I am aware that my shop is not my entire livelihood. Third, I have turned off Comments, not because I'm unwilling to debate, but because I'm tired of cowards who log into alias accounts to jab. You guys are fucking annoying) // @chateau.moses
View this post on Instagram
Morning LA @roundtwohollywood @roundtwovintage
[via
Dazed
, cover image via
Marc Jacobs
]