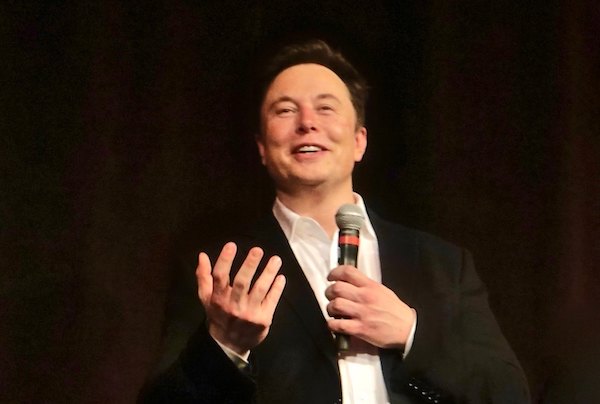 Image by Steve Jurvetson via Wikimedia Commons (CC BY 2.0)
Elon Musk had been adamant about reopening Tesla's Fremont factory, as well as admitted his resolve about businesses continuing to run during the
COVID-19
crisis.
"I will be on the line with everyone else," he famously
tweeted
. "If anyone is arrested, I ask that it only be me." On Tuesday, Alameda County officials
gave in
and allowed the facility to resume operations under new safety guidelines, bringing yet another win for him this month besides the birth of
his son, X Æ A-12
.
The fight wasn't complete without the Tesla CEO's extensive online rants, though. This included a photo of an ice cream sundae in a martini glass that he shared on Tuesday night.
"Life should be lived," Musk tweeted in a follow-up to the picture.
Right off the bat, Twitter users might assume that Musk had taken the photo and was enjoying the dessert himself. But some thought to investigate the image, and found that it was really from food blogger Diane, also known as
The Episodic Eater
, who had snapped the image at Buca di Beppo in 2017.
When asked where he "[got] that" from, Musk simply replied, "Buca."
The chain, which reposted the photo back in 2017, later joked that it was opening the "first restaurant franchise in Mars" with Musk.
Diane, the blogger who first uploaded the photo, expressed astonishment that a years-old image of hers would go viral. In a video, she proved that she had indeed taken the photograph by revealing its RAW version, but said she wasn't upset at it being used without credit because she is accustomed to people resharing her pictures.
"Is it my photo? Yes. Did I know it was being reposted? No," she responded. "Do I wish I got credit? Yeah, why not? Am I mad about it? No, because it does happen all the time."
Diane added that while she isn't an Elon Musk fan nor hater, she owns a Tesla and used to work in a company that built SpaceX parts.
Life should be lived
— Elon Musk (@elonmusk)
May 13, 2020
Buca
— Elon Musk (@elonmusk)
May 13, 2020
Yep, it's my photo! ‍♀️ I don't understand how something from over 3 years ago was found, but a few people noticed the watermark and tagged me, although it would've been nice for the 100K people who liked the original tweet to know it was originally mine
— Diane (@episodiceater)
May 13, 2020
I will never ever stop laughing about Elon Musk stealing an image from Buca de Beppo so he could fake eating out during a pandemic while he has a newborn at home pic.twitter.com/jWDoiGYzX5
— Molly Shah (@MollyOShah)
May 13, 2020
@elonmusk @episodiceater We agree! Our Colossal Brownie Sundae is out of this world! https://t.co/RtdyzUXG1C
— Buca di Beppo (@bucadibeppo)
May 13, 2020
BREAKING NEWS: Buca and @elonmusk announce first restaurant franchise for Mars.
— Buca di Beppo (@bucadibeppo)
May 13, 2020
A few more answers, plus I tracked down my original photo for you. The good news, this revived my dead Twitter account!
P.S. - I'm usually on Instagram not on selfie mode https://t.co/OthEZjho62 pic.twitter.com/yvOPtU2UVt
— Diane (@episodiceater)
May 13, 2020
[via
Business Insider
, cover image by
Steve Jurvetson
via
Wikimedia Commons
(CC BY 2.0)]