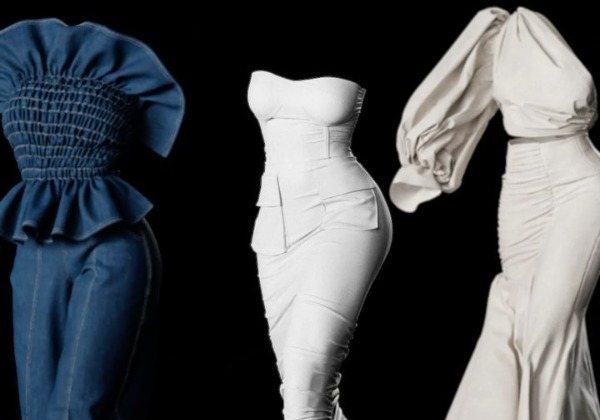 Video screenshot via Hanifa
Fashion designer Anifa Mvuemba has launched a digital showcase using 3D models on
Instagram
for her brand Hanifa's debut collection,
Pink Label Congo
.
Incidentally, Mvuemba had designed her 3D models ahead of the
coronavirus pandemic
, and they are now being unveiled on Instagram through a live fashion show viewable by people who are staying at home to curb the virus spread.
The designer told
Teen Vogue
that she was anxious about being "insensitive to create and share a new collection online while people were facing very difficult realities." However, the digital launch received positive feedback on Instagram.
The fashion industry has not been able to host physical shows during the COVID-19 crisis, and Mvuemba's concept comes in time to make fashion accessible to everyone at home.
The collection was created to celebrate the culture of Congo while shedding light on the issues faced by the locale such as illegal mining and more, per
Harper's Bazaar
.
Check out the Pink Label Congo collection below.
View this post on Instagram
We can't say thank you enough for all of your support. The full #PinkLabelCongo🇨🇩 collection is now available on Hanifa.co | Watch the replay on our IGTV.
View this post on Instagram
Still on a high if you missed it, you can watch the entire show on @hanifaofficial IGTV #pinklabelcongo🇨🇩
View this post on Instagram
Riddled with a painful history, the beauty of Congo is often untapped and overlooked. The gentleness, beauty, history, poise, majesty, strength, power, and hope of the Congolese spirit inspired this collection. When creating each piece, I was reminded of the stories my mother told me of the women she knew back home in Congo. Women who suffered great loss but still, mustered every ounce of strength everyday to show up. My hope is that this collection inspires all women to stand tall in their power and like the Democratic Republic of Congo, to use their history, whether pretty or painful — to redesign their future. My country, the land of Congo, is ripe with an abundance of natural resources — the greatest of which are its people — its women. Hanifa presents.... Pink Label Congo. Now available at Hanifa.co
[via
Harper's Bazaar
, cover image via
Hanifa
]