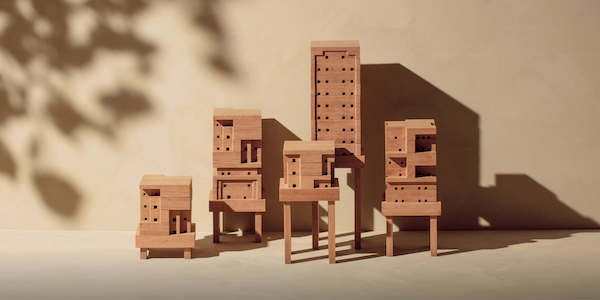 Image via Bee Home
So far, bees have been able to call a few human architecture-inspired buildings their own. There's
lodging
, the
"world's smallest" McDonald's
, and even a
Wes Anderson-themed hotel
for them. However, they are still missing out on a fundamental aspect of the modern human experience: living in a home built with the help of IKEA.
For World Bee Day on 20 May, IKEA teamed up with its research and design lab SPACE10, tech-focused design studio
Bakken & Bæck
, as well as industrial designer
Tanita Klein
, to make its mass home product manufacturing expertise beneficial for solitary bees. The result is
Bee Home
, an initiative aimed to give solitary bees "the home they deserve" to make up for the dwellings humans have unwittingly destroyed.
According to the Bee Home website, solitary bees are responsible for the growing of "a third of the world's food supply," since almost 90-percent of the world's flowering plants rely on pollination.
A single solitary bee is able to pollinate as much as 120 honeybees, making it "vital for life on planet Earth." This species is friendly, even being trusted to live around children and pets, and will only sting if stepped upon.
Since solitary bees are harmless, customers can rest easy about them settling near their properties. The Bee Home project thus encourages them to welcome new buzzy neighbors by making it easy for them to design and build bee homes for free.
Via Bee Home, you'll be able to play architect to the solitary bee community by selecting a style of housing, changing its height, and increasing or decreasing the building's number of' stories. You can then download the design files and send them to the nearest maker space to build the structure for you.
To get down to buzziness, head over to the
Bee Home website
.
View this post on Instagram
Today, on World Bee Day, we are excited and proud to release our latest open-source design project: a home for bees.⠀ ⠀ With Bee Home, it's easy and free for anyone anywhere to design a beautiful home for bees.⠀ ⠀ Let's help bees, and planet Earth, thrive again. Follow the link in our bio to design your own Bee Home.⠀ ⠀ #BeeHome #SPACE10 #SaveTheBees⠀ ⠀ Made in collaboration with @bakkenbaeck and @tanita_klein.
[via
Apartment Therapy
, images via
Bee Home
]