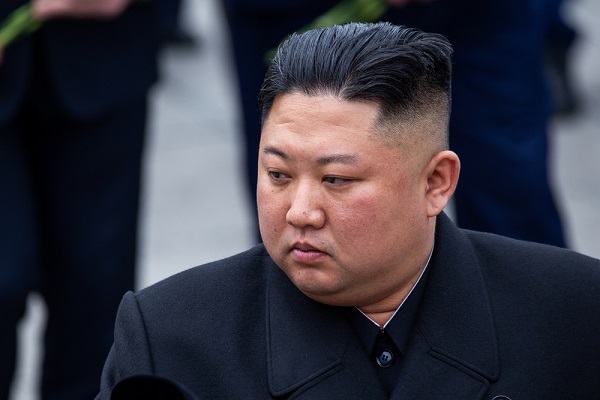 Image via Alexander Khitrov / Shutterstock.com
Kim Jong-un reportedly made his first public appearance following a
health scare
, but rather than assuaging the internet's concerns, it is inciting more questions.
The Korean Central News Agency (KCNA) reported, via
CNN
, that the North Korean leader had attended a ceremony marking the completion of a fertilizer factory near Pyongyang with officials and his sister,
Kim Yo-jong
.
Kim Jong-un was pictured smiling, talking, and even smoking during the event, according to photos published by the Rodong Sinmun newspaper.
Rumors about the North Korean leader swirled after he had missed the birthday celebration for his late grandfather Kim Il Sung on 15 April.
TMZ
also reported that Kim had died on 25 April due to a "botched" heart surgery, while several Chinese and Japanese publications revealed an
edited photo
of him laying in a glass coffin.
Social media users, however, think the newly-released photos are rather fishy as the figure in the pictures doesn't look like the same person as the man in photos prior to the health scare. Some believe that he could even be a body double.
"Have y'all seen the latest pics of Kim Jong Un? He looks slightly different. My theory is either that he died and was replaced by a clone/lookalike, or was out of the public eye for so long bc he was recovering from plastic surgery," an eagle-eyed Twitter user commented.
Many are pointing out that the man's teeth don't match Kim's. "The chipped incisor is a definite giveaway it's not Kim Jong-un," a Twitter user pointed out. "People are saying that Kim Jong-un, who has appeared is a double or clone. By looking at these photos, I now too have serious doubts," another said, sharing a collection of photos showing the differences between Kim's ears and beauty marks to the supposed lookalike's.
The chipped incisor is a definite giveaway it's not Kim Jong Un.

So why a body double? If he's dead why not just announce it and crown his successor? https://t.co/AVUz7Kl9CS
— August September (@SeptAugustus)
May 2, 2020
Look at these two images and note the teeth! The first one is Kim Jong Un a few weeks ago (the real one?), the second is KJU today as shown by RT. Note the gap in the teeth of the second image. A body double? pic.twitter.com/822ujeEOUZ
— Rik W 🇬🇧 (@Rik_J_W)
May 2, 2020
Was the "Kim Jong Un" who cut the ribbon at that fertilizer plant a body double or nah? https://t.co/QZvX2v5p08
— Matt Parlmer (@mattparlmer)
May 3, 2020
His nose seems a little bit more rounded, his hairline looks wider, and he used to have WAY more wrinkles around the eyes when he smiled. The hairline may just be receding or a fresh new haircut, but the smoother eyes and slightly different nose have me questioning things
— 𝕖𝕥𝕙𝕒𝕟 (@BacquesJrel)
May 2, 2020
We really believing that's Kim Jong Un when it could absolutely be a dude w plastic surgery?? If I was a murderous dictator I'd have clones.
— Akilah Hughes (@AkilahObviously)
May 2, 2020
People are saying that kim jong un who has appeared is a body double or clone.
By looking at these photos, I now too have serious doubts #kimjongun pic.twitter.com/cqoeESuCkq
— (@CosmoCoCo00)
May 3, 2020
Kim Jong Un's body double is the luckiest man in North Korea with the amount of food he gets to eat.
— Julie Borowski (@JulieBorowski)
May 2, 2020
Am I the only one who thinks this is Kim Jong Un's body double??? https://t.co/vpUPhJQfWv
— Sw Ar Oops@360° (@swaroopjose)
May 2, 2020
[via
Daily Dot
, opening image via
Alexander Khitrov / Shutterstock.com
]