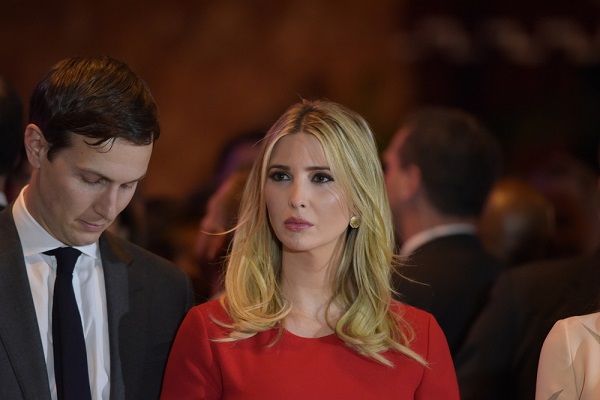 Image via a katz / Shutterstock.com
Ivanka Trump attended what was planned to be
NASA's historic SpaceX rocket launch
with her daughter Arabella and son Joseph, all clad in face masks.
The president's daughter and White House senior advisor looked stylish as she wore a white mask with printed yellow flowers to match her midi sundress. She donned a white button-down dress with a large yellow rose plastered on the front. She carried a white purse, and completed the look with a pair of nude heels.
Her daughter, Arabella, wore a white dress with sandals and a floral patterned mask. Joseph opted for a blue mask that matched his blue button-down shirt and white shorts.
Jared Kushner and Donald Trump, however, refused to wear any masks at the event.
The Trumps arrived at the Kennedy Space Center in Florida to witness the launch of two US astronauts to the International Space Station. Unfortunately, bad weather had caused the event to be
delayed
until Saturday or Sunday.
Ivanka's move to wear a face mask comes after her father had mocked the practice of wearing one. He had told a reporter to "remove his mask" so he could better hear what was being asked. When the reporter refused, Trump said, "You want to be politically correct."
Spotted wearing a mask at the Kennedy Space Center: Ivanka pic.twitter.com/ShsG4Ksdgn
— Seung Min Kim (@seungminkim)
May 27, 2020
HAPPENING NOW: President @realDonaldTrump, @FLOTUS Melania Trump, @VP Mike Pence, @SecondLady Karen Pence, @DonaldJTrumpJr, @KimGuilfoyle, @IvankaTrump, @JaredKushner, @EricTrump, and @LaraLeaTrump visit @NASA's Kennedy Space Center in Florida. pic.twitter.com/UZxVunJeV0
— The Hill (@thehill)
May 27, 2020
Ivanka Trump wears face mask at Nasa SpaceX launch after president mocked it as 'politically correct' https://t.co/m87paTGRjA
— Indy World (@IndyWorld)
May 27, 2020
'Oh okay, you want to be politically correct' — Pres. Trump mocked a reporter for refusing to take off his mask.

The CDC recommends wearing cloth face coverings in public settings. pic.twitter.com/7rE7TyQxr2
— NowThis (@nowthisnews)
May 27, 2020
[via
Independent
, opening image via
a katz / Shutterstock.com
]