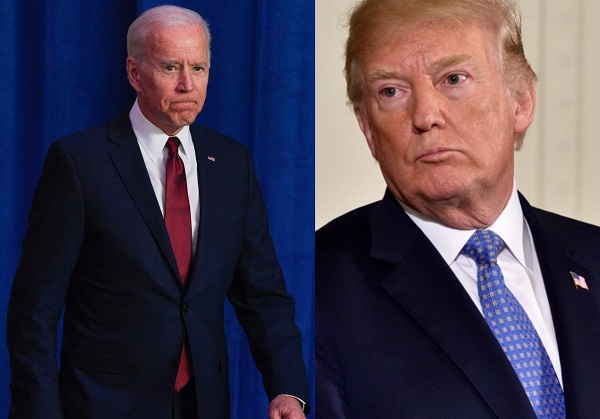 Left image via Ron Adar / Shutterstock.com, right image via Evan El-Amin / Shutterstock.com
Presumptive Democratic nominee Joe Biden has emerged with a unique nickname for US president Donald Trump.
As it appears, Biden came up with the moniker after noticing how much Trump tweets. "Trump is out there tweeting again. I call him 'President Tweety'!" he revealed in a video message shared online last Monday, which was recorded during his speech at the Asian American and Pacific Islanders Victory Fund.
Biden—known as 'Sleepy Joe' to Trump—was initially "resistant" in giving nicknames, but he seemed to have a change of heart. In an interview posted to
Vanity Fair
, Biden commented that the president's use of nicknames was skillful and called him a "master at laying nicknames on people."
"I can hardly wait to get onto the stage with Trump. I'm really resisting giving a nickname to the president," he continued.
The former vice president made the comment after Trump's belated response to providing relief aid to businesses hurt from the
coronavirus pandemic
.
"How are we supposed to do that if you're sitting on the money small businesses need in order to stay alive? Stop tweeting about it. Get the money out to Main Street now," Biden said.
.@JoeBiden has often said he refrains from giving Pres Trump nicknames, but he seems to have finally given him one during today's @AAPIVictoryFund event

"Trump is out there tweeting again this morning. I call him President Tweety," he said a/b this tweet: https://t.co/0bz37i1u3m
— Marianna Sotomayor (@MariannaNBCNews)
May 18, 2020
Joe Biden reveals his nickname for Donald Trump is "President Tweety"

Read more at @nypost https://t.co/6XPeCgpHNo pic.twitter.com/LUcSrI7g5b
— Jon Levine (@LevineJonathan)
May 19, 2020
Love it!!!! #PresidentTweety https://t.co/imuUHln9BC
— Debra Messing (@DebraMessing)
May 19, 2020
Me: insulting nicknames are a pathetic way of engaging in public debate and demeaning to democracy itself

Also me: ha! #PresidentTweety that's funny
— Diedrich Bader (@bader_diedrich)
May 18, 2020
President Tweety on an Adderall bender. #PresidentTweety @realDonaldTrump pic.twitter.com/ndsEzo3PFo
— Frederick Frank (@GaskinsJeffrey)
May 18, 2020
"I call him President Tweety..." pic.twitter.com/an9xoh7Dq3
— berningman2020 🦺 (@berningman16)
May 18, 2020
Joe Biden has officially given Donald Trump a nickname:

"Trump is out there tweeting again this morning. I call him 'President Tweety.'" ~ Joe Biden

Flip President Tweety the bird, vote him out!#PresidentTweety #PresidentPlump pic.twitter.com/Wte89bxRM8
— Rachel VIII, Ratchet Queen of Quarantine (@Rachels_Ratchet)
May 19, 2020
[via
New York Post
, opening image via
Ron Adar / Shutterstock.com
,
Evan El-Amin / Shutterstock.com
]