[Click here to view the video in this article]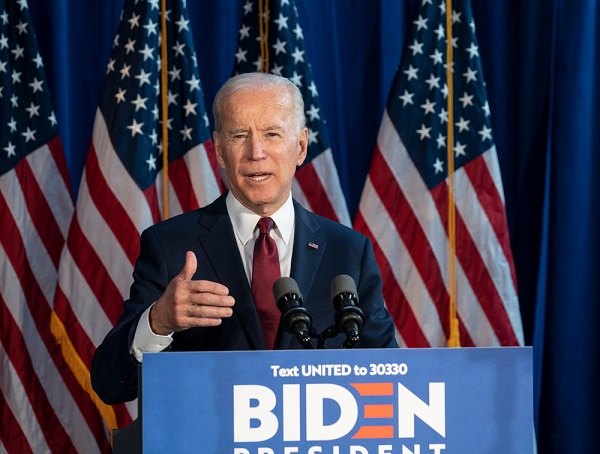 Image via lev radin / Shutterstock.com
Joe Biden left viewers in amusement after his speech became plagued with streaming issues.
Instead of garnering support from voters, Biden got trolled instead as his virtual campaign rally in Tampa had tons of glitches, leaving his face appearing disfigured.
The hour-long rally also had other politicians on the show, including Rep. Charlie Crist and Rep. Kathy Castor, whose voices were also affected due to the connectivity issue. An announcer came on the virtual event and introduced an unaware state senator Janet Cruz, who sat in silence on camera for 17 seconds before the video got cut away. After a long silence, Cruz was abruptly back on and delivered her message.
When Biden finally came on around 40 minutes into the rally, he appeared confused. "They introduced me? Am I on?" he asked. When he began speaking, the audio issues didn't go away.
"Good evening. Thanks so much for tuning in. I wish we could have done this together and a little more smoothly, but I'm grateful we're able to connect virtually and thank you…" Biden spoke before his voice became unintelligible.
The poor audio quality came with occasional video glitches, which viewers poked fun at. "First day of quarantine VS how I'm feeling today," one Twitter user wrote, alongside a side-by-side photo of Biden carrying a dumbbell and a pixelated screenshot of his face.
Some Twitter users likened his glitched face to an eerie character from 2001 film Hannibal, Mason Verger. Check out more hilarious responses below.
First day of quarantine vs How I'm feeling today pic.twitter.com/LfXyW66mIp
— Florian 🥁 (@BetaODork)
May 8, 2020
Cannot unsee this pic.twitter.com/BRUOUB5aPs
— Katie Kat (@Katie_Kat405)
May 7, 2020
May 7, 2020
Loving the virtual townhall horror shows Biden's been doing lately. pic.twitter.com/MG2qbatJhQ
— Vic Berger IV (@VicBergerIV)
May 7, 2020
[via
Daily Dot
, opening image via
Facebook
]