[Click here to view the video in this article]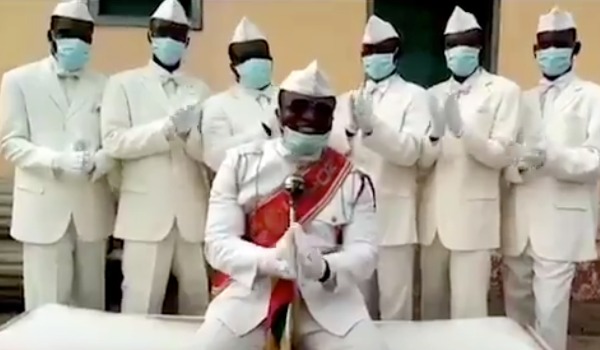 Video screenshot via Benjamin Aidoo
During the
coronavirus pandemic
, the internet has somehow found hilarity in a viral video of
Ghanian pallbearers
dancing with a coffin. Though the video first rose to popularity in 2017, it resurfaced once again when COVID-19 broke out.
Internet users danced with the idea of death through hoards of memes featuring the video of pallbearers performing a funeral ritual in Ghana. The pallbearers themselves have expressed acceptance of their internet fame by performing in a
local television show
. They were also featured on
BBC Africa
earlier this month.
Now, Benjamin Aidoo, who calls himself the "creator of the coffin dance," has
shared
a video of the pallbearers thanking healthcare professionals worldwide for working tirelessly to combat the virus.
Using their fame, they hope people can listen to a piece of advice they have: "Now remember, stay at home or dance with us."
From NANA OTAFRIJA to all the doctors in the world
Thank you
Mention all the doctors out there with your country flag. #COVIDー19 #CoffinMeme #benjaminaidoo #nanaotafrija #CoffinDance #Doctors pic.twitter.com/OVrv5Ib8pz
— Benjamin Aidoo (@nanaotafrija)
May 5, 2020
[via
VICE
, cover image via
Benjamin Aidoo
]