[Click here to view the video in this article]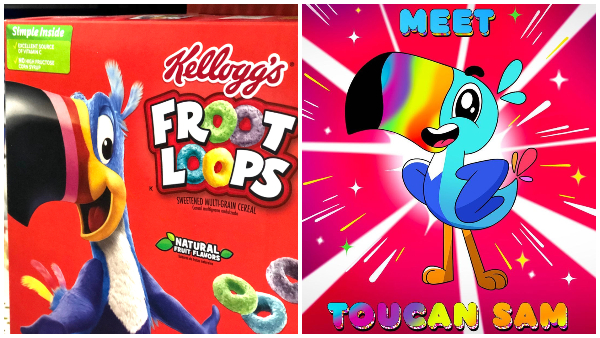 Images via jadimages / Shutterstock.com and Froot Loops
Froot Loops has revamped Toucan Sam with a bright and colorful 2D look, and as reactions to
drastic redesigns
of beloved classic characters have indicated in the past, toucan't touch this.
Kellogg's introduced the renewed cereal mascot last week on social media, along with a television commercial, and long-time fans just can't relate with it. The angry emoji seems to be the prominent reaction towards the overhaul on Facebook, and over at Twitter, artists are taking the effort to "fix" the character redesign.
"Who designed this, a 12-year-old who just learned about the rainbow gradient and smudge tool?" one internet user commented.
The new Toucan Sam bears a hand-drawn 2D look, but that's not to say his appearance has been simplified. Compensating for the flat design are a loud color palette and near-anime features, an aesthetic people connect with animated shows like The Amazing World of Gumball and Steven Universe.
Aside from a change in illustration style, customers just can't get over the fact that Toucan Sam no longer has an anatomically-correct beak.
Needless to say, you'll probably be spotting Froot Loops cereal boxes at supermarket aisles from a mile away.
View this post on Instagram
Explore the excitingly colorful and frooty Froot Loops world #ThroughTheLoop
name a bigger design downgrade pic.twitter.com/dsXSigT9H3
— Windy (RIP Etika) (@gamingguru456)
May 11, 2020
Omg people are so mad about the new Froot Loops toucan. Look at all the ANGERY reacts pic.twitter.com/FYoFbFek4l
— 𝓫𝓲𝓷𝓬𝓱 (@bird_zaddy)
May 11, 2020
I initially mistook the new Toucan Sam as a screenshot from some Gumball parody episode I assumed I had missed. pic.twitter.com/C0w3rcrw3C
— Carl, But Clancy (@CarlDoonan)
May 11, 2020
it's toucan sam like you've never met him before! pic.twitter.com/aQp7rllWGp
— Silb Dilb (@SilbDilby)
May 11, 2020
I've been trying to pinpoint who the new Toucan Sam design reminded me of—with the side mouth on a big nose. And I think it's Snoopy. pic.twitter.com/FDXNUh1nTw
— Bob Flynn (@bobjinx)
May 11, 2020
My take on the new Toucan Sam design, the mouth really bothered me so i wanted to try and "fix" it

What do you think?#FrootLoops #ToucanSam pic.twitter.com/1HR8WGVyj8
— Edupatilla (@Edupatilla)
May 12, 2020
I am happy to see the world come together to collectively hate on the new #FrootLoops Toucan Sam design and I am by the same occasion suggesting my own pic.twitter.com/kkEUrk19bp
— Master Yosho (@CruxBatface)
May 11, 2020
I just wanted to try redesigning Toucan Sam :'))#ToucanSam #FrootLoops pic.twitter.com/Q6sIJiKt7K
— Space Patrol Ven (@vannieven)
May 14, 2020
[via
Brand New
and
noisetrend
, images via various sources]