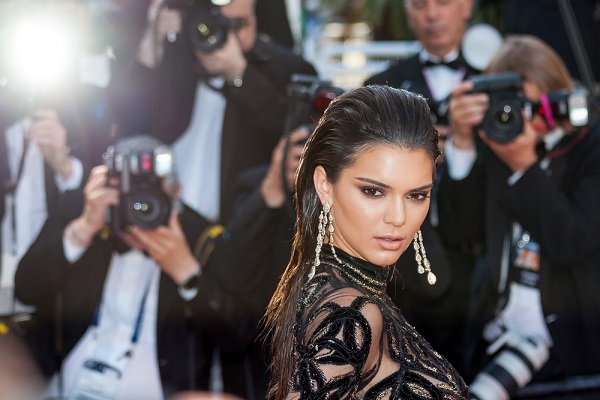 Image via taniavolobueva / Shutterstock.com
Kendall Jenner's
infamous Pepsi ad
is gaining traction once again due to the
Black Lives Matter
protests in the US.
The 2017 ad showed Jenner offering a can of Pepsi to a police officer in the middle of a protest as a peace offering. The officer then opened it and took a sip, and the crowd cheered wildly. The ad was dragged by social media users then for trivializing real social issues for a corporate cause.
As there are many actual demonstrations taking place recently, people are revisiting the commercial and questioning where Jenner had been when several of the protests were going on.
"Protestors in Beverly Hills? Holy s**t @KendallJenner, this is your time to shine with your Pepsi, sweetie," one Twitter user joked. "Where is Kendall Jenner with the Pepsi when we need her the most?" another user asked.
Check out the jokes over Jenner's resurfaced ad.
What all the Karens think protests should look like. pic.twitter.com/TfRgtGsmR5
— Christopher Wylie ️‍ (2020 Home Edition) (@chrisinsilico)
May 30, 2020
I can't believe Pepsi thought Kendall Jenner giving a cop a Pepsi would make them reconsider killing ppl This commercial proved how privileged white ppl are. They think it's up to them who gets to live and who doesn't. https://t.co/tQXj5C8zzw
— ItGIRL (@AaliyahJay)
May 28, 2020
wish kendall jenner would crack open a pepsi so we could end racism ️
— ruby (@starsoIogy)
May 28, 2020
Where is Kendall Jenner with the Pepsi when we need her the most? pic.twitter.com/uuUpjaqg43
— gibby (@lilgibgreg)
May 28, 2020
Where is @KendallJenner in Beverly Hills to calm this situation down pic.twitter.com/aWWmyU3TI4
— kevindollphin (@kevindollphin)
May 30, 2020
Kendall Jenner and her can of Pepsi are real quiet rn
— sai (@Saisailu97)
May 30, 2020
Protestors in Beverly Hills?! Holy shit @KendallJenner this is your time to shine with your pepsi sweetie #beverlyhills pic.twitter.com/9jwz6sDpro
— (@DeeNYC_)
May 31, 2020
While we're talking about Madonna and Kendall Jenner, this is still one of the best tweets ever on Twitter...from April 2017.

Look at the replies... https://t.co/rleUoneCD6
— Yashar Ali (@yashar)
May 28, 2020
Kendall Jenner must've run out of Pepsis
— Steadman™ (@AsteadWesley)
May 31, 2020
[via
indy100
, opening image via
taniavolobueva / Shutterstock.com
]