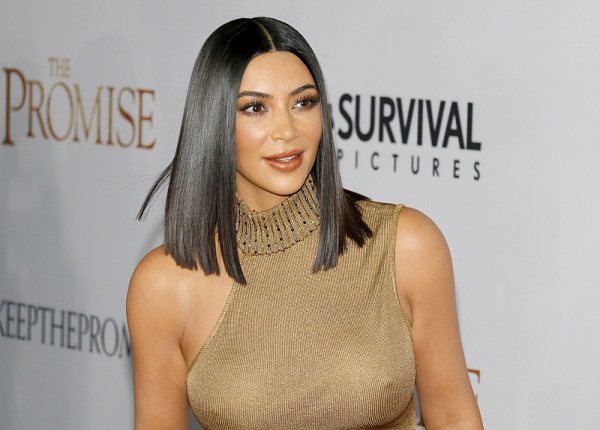 Image via Tinseltown / Shutterstock.com
Kim Kardashian was accused of "blackfishing" after recently posting a makeup tutorial video, prompting viewers to "fix" it in a bid to match her real skin tone.
The beauty mogul took to her Instagram Story to show fans how she glammed up using products from her KKW Beauty line. She then asked viewers not to "judge" her for her "pale hands," as she applied gloss on her lips.
Kardashian wanted her fans to focus on her applying "Soulmate Lipgloss in the center [of her lip] to make it juicy," but fans got distracted by her hand that seemed to be a few shades lighter than her face.
Viewers then took screenshots of her face, and called her out for her mismatched skin tones. "Her hand is like 12pm and her face is like 6.55pm," one Twitter user commented. "Why doesn't she wear her actual skin color instead of getting shades too dark for her? Questions need answers," another remarked.
The criticisms kept coming, and one Twitter user, in particular, decided to edit Kardashian's face to match her "pale hands." Kardashian now looks stark white in the edit, with unblended contours on her forehead, cheeks, and nose. The result has cracked up fellow social media users, with some likening her to Michael Jackson.
I decided to edit Kim to see how she would look if her face matched her hands. And.. well... pic.twitter.com/DeUegmUC1G
— leNaya (@lenayagriffin)
April 30, 2020
sorry for being white * https://t.co/E7Mb0XM8Te
— JAY VERSACE (@JAYVERSACE)
April 30, 2020
She likes being In blackface
— I'm an (@KittyLeSiren)
April 30, 2020
They really be forgetting they are white
— Deja Vu Hive President (@maiyasimone)
April 30, 2020
Her hand is like 12pm and her face is like 6:55 pm
— Sensei Shmensei (@Biggavellz718)
April 30, 2020
She said don't judge her for blackfishing pic.twitter.com/uW5hIKdhLV
— doja cats poosy fat (@badgyaltyra)
April 30, 2020
Is Annie okay?
— sonic 🇯🇲 (@tallawah77)
April 30, 2020
So… Michael Jackson?
— not today satan (@ilovehulahoop)
April 30, 2020
You think so? pic.twitter.com/8meK2l8MWP
— MJisInnocent (@10MJinnocent)
May 1, 2020
[via
Papermag
, opening image via
Tinseltown / Shutterstock.com
]