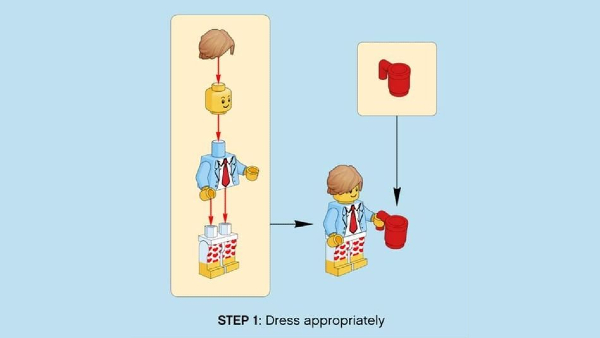 Image via LEGO
Working from home is challenging even for the creative minds over at LEGO. Nevertheless, they think they've cracked down on the secrets to keeping focused during this
unprecedented period
.
In a witty cartoon posted on its social media channels, LEGO suggests you can successfully work from home in four steps. Upon closer inspection, however, you'll learn that its Minifigure is handling the new normal as chaotically as most.
The Minifig starts his day right by dressing "appropriately" with a
literal business-casual outfit
of a blazer on top and no pants below, along with a cuppa in hand.
As he settles at his LEGO desk, the character replicates the "ergonomics" of his office space by stacking his laptop above a couple of books.
For greater productivity, LEGO recommends personalization, but you'll see it's not always for the best as the figure's cat decides to give him a helping paw.
Finally, LEGO says you can start working, and the Minifigure responds by whipping out his game console while his cat plays with the computer mouse.
As far as the work-from-home process goes, LEGO's concept of it literally stacks up.
View this post on Instagram
The build instructions you never knew you needed - how to work from home and be awesome #LEGO #Minifigures #LetsBuildTogether
[via
LEGO
]