[Click here to view the video in this article]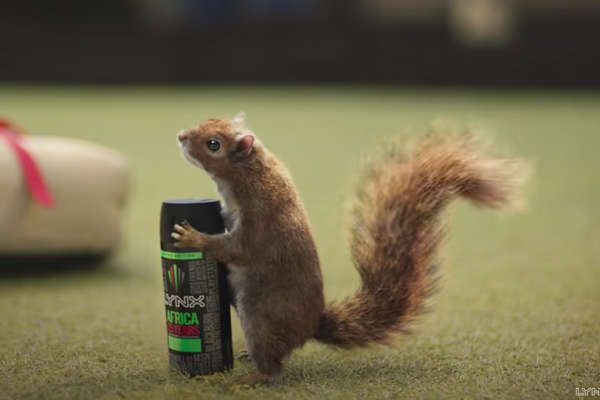 An ad for Lynx deodorant sparked outrage as it depicted a squirrel "humping" a can of deodorant, and was shown at a time when families were expected to gather in front of the television.
The commercial, released to celebrate the 25th anniversary of Lynx Africa, showed various teenagers using the product for the past three decades.
It opened with a scene of a teenager testing the product in 1995, before he got sucked into a time tunnel. Upon arriving in 2020, he was thrust onto the ground and tried to chase after the can, but his crush got hold of it first and sprayed the product onto him.
The can came to a halt on the ground and was "humped" by a squirrel, which irked viewers.
As a result, the Advertising Standards Authority received over 150 complaints about the "offensive" and "inappropriately timed" advert, which viewers thought was "unsuitable for children" as it was aired around 8.45pm on Saturday night during a Britain's Got Talent commercial break.
The ASA told
Metro
, "We had 155 complaints about the Lynx TV ad featuring a squirrel behaving amorously with a deodorant can. No decision has been made on whether there are grounds for an investigation."
Viewers took to Twitter to voice out their frustrations with the spot, with one user tweeting, "We are watching this as a family, can I ask why the inappropriate ad for Lynx with a squirrel getting it on with a deodorant can before the watershed? Complaint logged." Another said, "Was that squirrel just jumping that Lynx Africa can? Absolute filth!"
We are watching this as a family, can I ask why the inappropriate ad for Lynx with a squirrel getting it on with a deodorant can before the watershed? complaint logged #BGT
— Victoria Payne (@Victori17218098)
May 2, 2020
Was that squirrel just jumping that Lynx Africa can?!?! Absolute filth! #BGT #BritainsGotTalent
— Atholl (@AthollMills)
May 2, 2020
Did anyone else see the squirrel dry humping the lynx deodorant can on the ad break? WTF #BGT
— Simon (@Simon92190348)
May 2, 2020
[via
B&T
, opening image via
Lynx
]