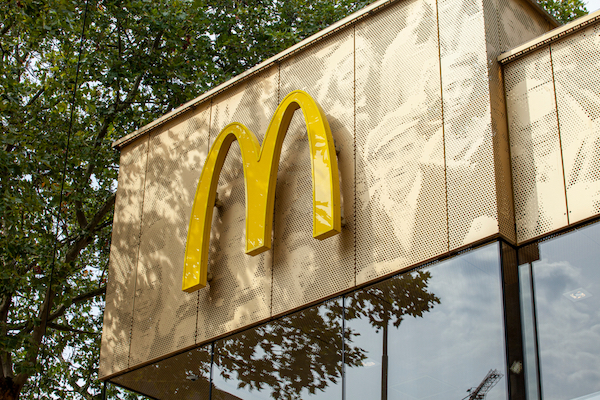 Image via Maarten Zeehandelaar / Shutterstock.com
Throngs of people around the world have been deprived of their McDonald's fixes as restaurants stay shut during the
COVID-19
crisis. These include customers from the Netherlands, though it is fortunately seeing a reopening in the near future.
While McDonald's Netherlands isn't foreseeing that business will resume until June, it is now rethinking its stores to manage life post-lockdown. A new prototype location in the city of Arnhem is now testing a social distancing-inspired layout for when the Netherlands relaxes its guidelines on social interaction.
Most evidently, patrons at the test restaurant are reminded throughout the outlet to keep a distance of 1.5 meters (five feet) apart from one another. This is reinforced via decals on the floor that alert customers where to stand while waiting in line, as well as stickers on walls telling them to "Smile at a distance," according to
Reuters
.
Before entering, customers are offered hand sanitizers at the entrance. When inside, they'll then place their orders using digital kiosks which will be routinely cleaned by employees. Workers will also handle orders with gloves to prevent skin contact.
McDonald's Netherlands is also considering introducing table service where patrons can collect their orders from trolleys so as to avoid being in close contact with employees.
Spokesperson Eunice Koekkoek told Reuters that while the changes are "drastic… we hope to make them in a way that customers don't notice them too much."
With the new concept, McDonald's Netherlands hopes to be able to serve 66-percent of its usual customer base.
McDonald's
In the Netherlands#mcdonalds #thenetherlands🇳🇱 #socialdistancing2020 #stayingsafeandhealthy pic.twitter.com/WayhUyrti9
— IPhree (@Scottatop)
May 3, 2020
View this post on Instagram
Going to McDonald's while maintaining 1,5 meters distance? McDonald's Netherlands has renovated the restaurant Arnhem Gelredome into the first try-out location for making this possible. Smart adjustments should assure that almost two thirds of the regular amount of guests could be seated. This restaurant is a prototype and not open for guests yet due to the governmental regulations on social distancing for the food and drinks sector. McDonald's Netherlands asks colleagues in the hospitality business to think along. With each other, for each other!
NEWS: Netherlands McDonald's tests social distancing-inspired redesign for post lockdown business This could be the fast-food restaurant of the future.
Netherlands McDonald's tests social distancing-inspired redesign for post lockdown business

This coul… https://t.co/1qBu0WG38Z pic.twitter.com/YwDhgSvz9x
— NsServices (@services_ns)
May 4, 2020
Big Macs delivered on meal trolleys, hand washing stations at the entrance and designated waiting spots to separate customers could become a feature of McDonald's restaurants in the Netherlands when they are allowed to reopen.
- via @guardian #COVID19 #coronavirus pic.twitter.com/R4tHRR3ywF
— Eva (@EvaSmartAI)
May 1, 2020
[via
Business Insider
, cover image via
Maarten Zeehandelaar / Shutterstock.com
]