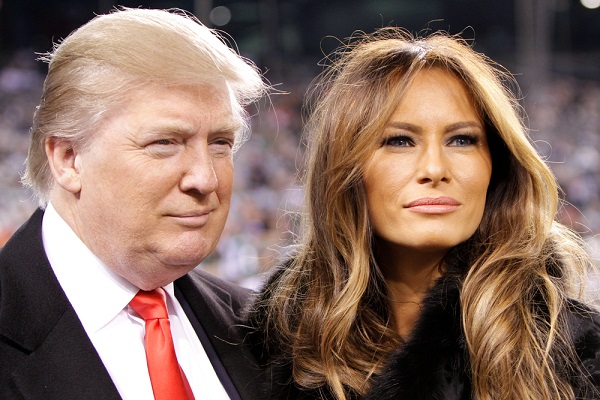 Image via Debby Wong / Shutterstock.com
First Lady Melania Trump delivered an expressionless face after her husband, Donald Trump, told her to smile during a photo op.
The Trumps were at the Saint John Paul II National shrine, when they paused to have their photos taken by official photographers. As they were posing, Donald appeared to be mouthing to Melania to smile, as seen in the footage below. She then flashed a brief smile, before returning to a deadpan expression.
Social media users were quick to make fun of the couple upon seeing the footage.
"She only smiles next to a real president," one Twitter user wrote, sharing a photo of Melania Trump smiling widely next to Barack Obama. Another said, "Wow, she hates him a lot."
The visit to the shrine came a day after the president went to St John's Episcopal Church to give a speech and posed with a Bible in his hand for a
photo op
.
Trump asks Melania to smile during today's photo op. pic.twitter.com/B59YeDHKRM
— The Recount (@therecount)
June 2, 2020
Here's a close-up: pic.twitter.com/yZK46OWFOC
— The Recount (@therecount)
June 2, 2020
Wow she hates him a lot.
— tara strong (@tarastrong)
June 2, 2020
Would you smile? pic.twitter.com/rbBWhlHsl1
— ERod (@ERodBuster1)
June 2, 2020
she only smiles next to a real president pic.twitter.com/FtmYD7eoSc
— Ivan (@d3cim8)
June 2, 2020
June 2, 2020
June 2, 2020
Donald Trump tells Melania to smile during today's photo-op, but she can't even fake it. pic.twitter.com/CdESXoGkSk
— Jules Morgan (@glamelegance)
June 2, 2020
You know who didn't have to tell Melania to smile? Pretty much anybody not named Donald Trump. Of course - if he could get her to smile if he ripped up that pre-nup. pic.twitter.com/f0mgrc37Cv
— Wrath of Chaka Khan #BlueWave2020 (@ta2t2o)
June 2, 2020
[via
Independent
, opening image via
Debby Wong / Shutterstock.com
]