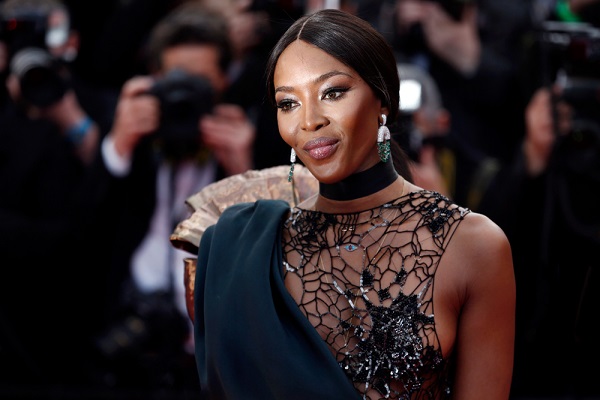 Image via Andrea Raffin / Shutterstock.com
Fans were amused after seeing Naomi Campbell's YouTube cameraman donning a full hazmat suit and mask while shooting her video.
Campbell recently posted a video on her YouTube channel, where she shared her favorite Met Gala looks. "This dress that I have on now, I've never worn it, this dress is Ossie Clark, I just felt like putting it on today," Campbell said while modeling the black cape dress.
While her gowns were stunning, Campbell's cameraman stole viewers' attention as they could spot him in the reflection of Campbell's mirror decked in a full hazmat suit.
A Twitter user shared screenshots of the cameraman in the protective gear along with the caption, "Obsessed with Naomi Campbell's quarantine cameraman filming her for her YouTube channel." The tweet has amassed 100,000 likes, and some have praised the supermodel for putting safety first during her shoot.
"She ain't taking no risks," one fan added. "You know she had a whole box of those suits already in her closet," another joked.
Campbell, however, clarified that the footage was filmed on 11 March, the same night she got home from LA.
"I have over two years of banked footage that we continually take from during the editing process. I hope everyone continues to practice social distancing and follow the rules of our health experts," she said.
Campbell has been strictly adhering to the rules when it comes to hygiene, and previously walked through an airport in a
hazmat suit
and face mask when the coronavirus outbreak first took shape.
Obsessed with Naomi Campbell's quarantine camera man filming her for her YouTube channel pic.twitter.com/PKNdZ1g49a
— tom casey (@tmscsy)
May 3, 2020
You know she had a whole box of those suits already in her closet 🤣
— ScissorSlim️ (@scissorkim)
May 4, 2020
She aint taking no risks pic.twitter.com/k4BmXwSPdJ
— amaan (@aamaan_)
May 3, 2020
She said "don't breathe on nothin, don't touch nothin. I want no traces of you ever being here."
— Latoya D. Brown (@BeFashionFluent)
May 4, 2020
he's got the real fashion
— maze cryptid (@MachMinotaur)
May 3, 2020
[via
Independent
, opening image via
Andrea Raffin / Shutterstock.com
]