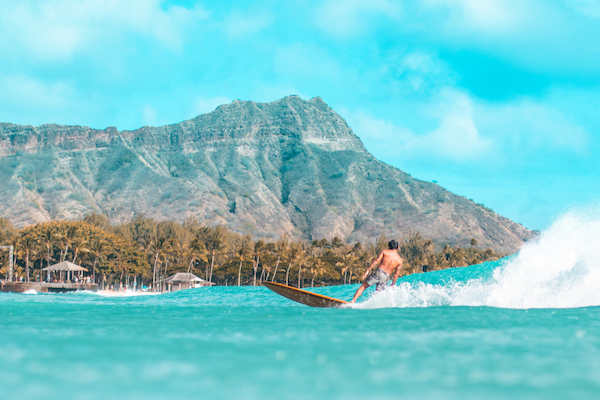 Image via Shutterstock
Here's a rule of thumb to follow by: if it's going to be unanimously condemned on Instagram, don't do it.
According to
a press release by the Hawaiian government, a 23-year-old man from the Bronx was arrested in Hawaii after uploading photos of himself at the beach, despite having been handed a mandatory 14-day quarantine order.
The man, Tarique Peters, landed in O'ahu on Monday and flouted quarantine rules, hitting the beach and apparently traveling to several places via public transport.
Authorities got word of the violation after locals came across photos of the man "on the beach with a surfboard, sunbathing, and walking around Waikiki at night."
Peters was arrested for breaching the Aloha State's 14-day quarantine regulations and for "unsworn falsification to authority."
As reported by the
New York Post
, the tourist's mother was disapproving of his travel plans and had even warned him not to go to Hawaii. "He had no business going there," Marcia Peters responded. "The rules are all over… I told him to cancel all his vacation [plans] because he knows what's going on in America and all over."
Following public disdain, Peters took down his Instagram account.
While they're nowhere as satisfactory as visiting the real place, there are a number of ways to emulate the island experience during self-isolation. You can switch your
Zoom wallpaper
to reflect
scenic travel backdrops
. You can also be like the
11 million others
who are retreating to a second life on
Animal Crossing: New Horizons
.
On Friday, Hawaii authorities arrested a New York tourist after citizens alerted them of his social media posts.

The 23-year-old posted photos of him out and about in Honolulu while he was supposed to be self-quarantining for 14 days as part of the state's rule for visitors. pic.twitter.com/V6i1hGHtnZ
— Mary Holman (@marycathh64)
May 16, 2020
[via
CNN
, images via various sources]