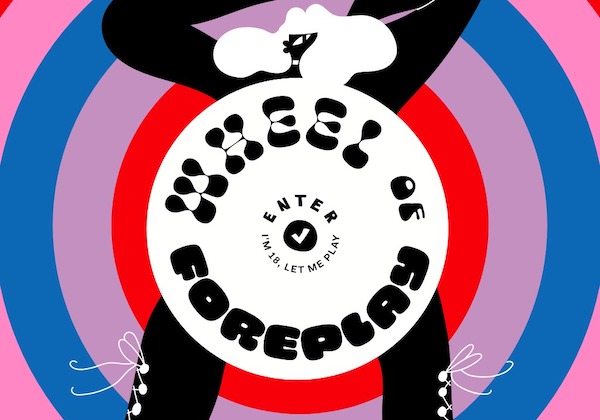 Screenshot via Wheel of Foreplay
Even if you're on self-quarantine, it doesn't mean your intimate life should be on lockdown too. A new game launched by adult content site YouPorn and Bryony Cole, founder of sextech authority
Future of Sex
, aims to bring that spark back, no matter if you're a couple living together or apart, or if you're single and focused on self-love.
The
Wheel of Foreplay
is the X-rated counterpart of Wheel of Fortune, split into various categories for your preferences.
There's 'Going The Distance' for partners who are isolating away from each other, 'Some Like It Hot' for a boost in "erotic intelligence," 'Cosmic Connection' for couples who wish to understand each other on a deeper level, 'Push it Real Good' for partners who wish to break their usual boundaries, and 'I Touch Myself' for individuals searching for more experimental self-pleasure techniques.
Upon selecting a pack, you'll let Lady Luck recommend a new trick by spinning a wheel, which will turn up prompters like "imaginative" or "gentle."
Visitors are first urged to seek consent from their partners to play the game, as certain suggestions might make them feel uncomfortable. Check out the game
here
.
View this post on Instagram
Stay home and bone! You've completed Netflix, you've done the 1000 piece jigsaw and baked more banana bread than your local baker has in their lifetime. But, have you stopped to think about intimacy and sexual pleasure? Have you ever discussed with your partner about what you like in bed and what turns you on? We recently teamed up with venture studio @whoisjosephmark to create a lighthearted game @wheelofforeplay to help people have these conversations, think about their own intimacy and to have more sex while stuck at home. Sound good? Good. Take it for a spin now, link in bio! Game illustrations by @egle_zvirblyte Brought to you by YouPorn @jedyvales
[via
Typewolf
, images via
Wheel of Foreplay
]