[Click here to view the video in this article]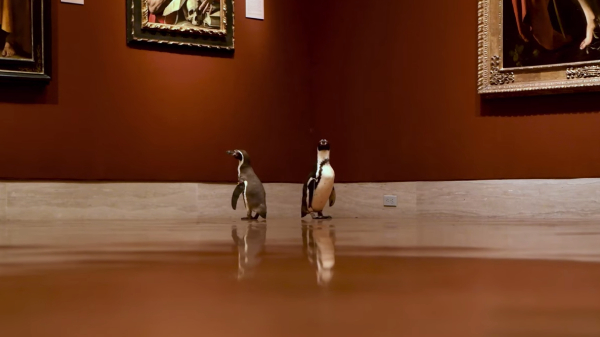 Video screenshot via Kansas City Zoo
As the lack of human contact has left them feeling lonely, penguins of various zoos in the world are being taken on
field trips
to bring enrichment to their lives, and they're now being stimulated on a bougie level with a little crash course on art appreciation.
To ensure the downtime doesn't turn them into bird brains, the Kansas City Zoo brought a family of Humboldt penguins to the Nelson-Atkins Museum of Art in Kansas City, Missouri. Just like how the "
quarantine
has caused everyone to go a little stir crazy," the zoo imagined its penguins were feeling a similar sort of emptiness and wanted to fill that void.
It turns out that penguins do have a taste for certain styles of art. Julián Zugazagoitia, the CEO and executive director of the local art museum, noticed that the birds responded "much better to Caravaggio than to Monet."
When being spoken to in Spanish, the penguins also "seemed to appreciate it."
View this post on Instagram
We've had some dapper guests visit the museum before but these little tuxedoed visitors are our favorites. The @kansascityzoo treated the penguins to a little culture before the Zoo re-opens. #somegoodnews
[via
The Hill
, cover image via
Kansas City Zoo
]