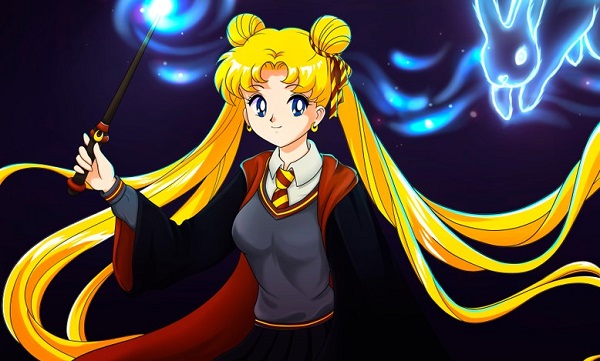 Image via Salenta / Shutterstock.com
The 'Sailor Moon Redraw' challenge has taken off on Twitter, with artists being tasked to show off their best takes on revamping the anime character.
The trend first started in July 2019, and focuses on sketching the show's character, Usagi Tsukino, better known as Sailor Moon. The scene shows her looking at the villain with tears in her eyes.
The challenge aims to enhance the original character, giving the scenario texture and making it three-dimensional. It died down for a while but gained traction once again, this time drawing in comedic responses.
While many are still showing off their creative prowess, others have decided to inject a little humor to Sailor Moon. They have reimagined the character as a chicken, a Nigel Thornberry-Sailor Moon, and have even created a Tiger King version.
The Nigel Thornberry variation sees the The Wild Thornberrys icon rocking Sailor Moon's signature long hair and gold headpiece, but the artist dyed Thornberry's mustache to match his hair. "Smashing!" the artist captioned his artwork, the word often uttered by the character.
It seems I never posted it here
well, I drew it a long time ago and I still like it :D#sailormoonredrawchallenge #sailormoon #sailormoonredraw pic.twitter.com/JL1pdHVLSH
— Sayuri Watanabe (@sayuriwatanabe7)
May 18, 2020
Please accept my offering #sailormoonredraw #sailormoonredrawchallenge pic.twitter.com/BASiNB2EXE
— X Æ L Λ ⚔ @ Arknights Crossing (@Xelalanana)
May 19, 2020
hard to balance anime style with detail/realism but this was fun! #sailormoonredrawchallenge #sailormoonredraw pic.twitter.com/zB7cVI1ety
— yue (@yueko__)
May 19, 2020
hopin' on this bandwagon~!#sailormoonredrawchallenge #sailormoonredraw pic.twitter.com/RDC4ECvgkX
— Ren @ CLOSED for COMMS (@sayrenka)
May 19, 2020
Sailor moon challange... did i do it right? #sailormoonredrawchallenge pic.twitter.com/LN9mZjomgH
— Crytus (@Crytus_Rooshin)
May 19, 2020
#sailormoonredrawchallenge #sailormoonredraw 2 more pic.twitter.com/yOvEMfBxnV
— zzyzzyy (@zzyzzyy)
May 19, 2020
Let's have a drink#sailormoonredrawchallenge #SailorMoonRedraw pic.twitter.com/nv03HI5a1N
— Bonz (@Bonz0616)
May 19, 2020
So I see this tag is trending... may I offer you a cursed Sailor Moon x Tiger King crossover??? #sailormoonredrawchallenge pic.twitter.com/nJfv2ABfgA
— 𝙎𝙩𝙤𝙧𝙢𝙮 (@itsStormyBoi)
May 19, 2020
"Smashing!" -Sailor Thornberry

I hope this brings joy to people xD#sailormoonredraw @sailormoon #sailormoonredrawchallenge pic.twitter.com/FJiTJfFceS
— Miko (@Miko_Puns)
May 19, 2020
View this post on Instagram
Right. Actually. Have another one of #sailormoonredraw but with surprised pikachu meme. Might just print this later for sticker freebies. Idk. . Caption this :o . #sailormoon #sailormoonredrawchallenge #pikachu #surprisedpikachu #memes #pikachumeme #shitposting #artshitpost
View this post on Instagram
This is my contribution, might have been done already . . #sailormoon #sailormoonredraw #usagi #usagitsukino #myart #artchallenge
[via
Daily Dot
, opening image via
Salenta / Shutterstock.com
]