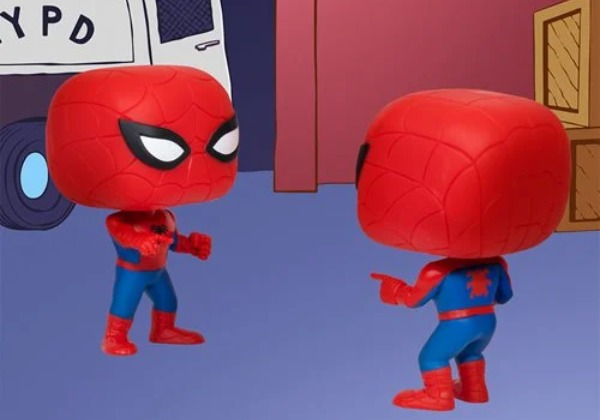 Image via Entertainment Earth
If you're an avid social media user, you might have come across the '
Spider-Man Pointing at Spider-Man
' meme, which depicts a picture of two Spider-Men pointing at each other. Toymaker Funko Pop is now immortalizing the meme into a pack of collectible toys for both Marvel fans and social media users to show off their love for memes in the real world.
Online retailer and wholesaler
Entertainment Earth
unveiled the limited-edition 'Spider-Man vs. Spider-Man' Pop pack, which includes two identical Spider-Men with their index fingers pointing at each other accusatorially. There is also a background insert for you to complete the scene of the meme.
The internet meme has been used on social media platforms for users to represent similar people or ideas connecting at the same time. The visual originated from an episode of the 1976 Spider Man cartoon series, where the protagonist is challenged with an imposter dressed like him.
The still of two Spider-Men pointing at each other has tickled social media users in recent years, and was even recreated in the credit scene of the 2018 animated film, Spider-Man: Into the Spider-verse.
The set is available for preorder at US$24.99 exclusively on
Entertainment Earth
, and delivery is expected to begin in June. Since it is limited-edition, it is best to get your hands on it as soon as possible.
View this post on Instagram
A classic meme is coming to your collection, and is sure to get your Spider senses tingling. Pre-order the Entertainment Earth Exclusive Spider-Man Imposter Funko Pop! 2-Pack now!⠀ .⠀ .⠀ .⠀ .⠀ .⠀ .⠀ .⠀ .⠀ .⠀ .⠀ .⠀ .⠀ .⠀ .⠀ #iCollectatEE #funko #funkopop #funkocollector #funkopops #funkofamily #funkomania #funkoaddict #funkopopvinyl #pop #originalfunko #funkophotography #popvinyl #funkocollection #funkofunatic #marvel #funkocommunity #funkophotoaday #funkofanatic #disney #funkopopcollector #toys #funkopopcollection #funkogram #funkolove #pops #funkos #toyphotography #funkovinyl #toycollector
[via
CBR
, cover image via
Entertainment Earth
]