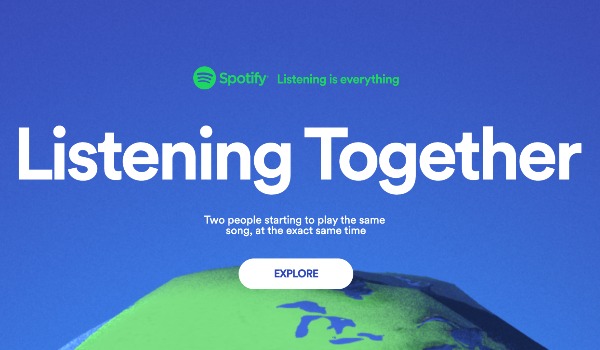 Image via Spotify
As many people are social distancing during the
coronavirus pandemic
, it is only natural to feel alone when they are in isolation. Spotify's latest initiative, 'Listening Together', aims to connect people around the world through music.
The music-streaming platform has created a website with
an interactive map
of the globe, which will show which two Spotify users are listening to the same song at the same time.
You can also navigate around the map to find two users who have been matched, and discover what they are currently listening to.
"Now, through our new global campaign, 'Listening Together', we're celebrating audio's unique power to unite us—even when we're apart," the brand stated in a
blog post
.
Along with the map, Spotify has released
Listening Together With
playlists created by artists like Selena Gomez, Lil Yachty and Dolly Parton, who have shared songs they are listening to during this period.
Listening connects us all. See how we're #ListeningTogether, even while we're apart → https://t.co/cobRxtIt16 pic.twitter.com/bmBlZ7DdpJ
— Spotify (@Spotify)
May 7, 2020
From their homes to yours We're #ListeningTogether to playlists from your favorite artists https://t.co/dXexXAl8vU

Featuring @DollyParton, @selenagomez, @lilyachty, @KianaLede, @Normani, @lildurk, @sofitukker, @AlecBenjamin, @madisonbeer, @kanebrown, and @palomamamicl pic.twitter.com/jX3SgN9W6N
— Spotify (@Spotify)
April 23, 2020
[via
Muse By CLIO
, cover image via
Spotify
]