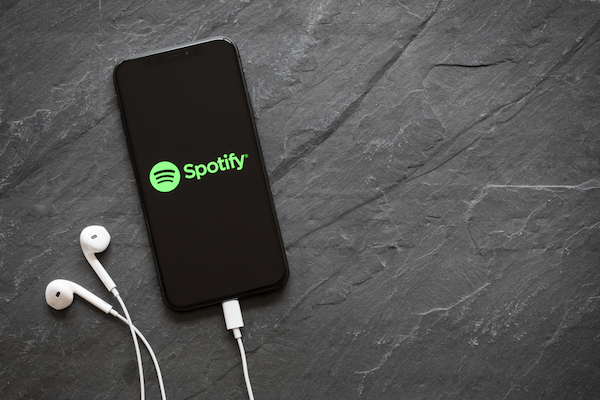 Image via Kaspars Grinvalds / Shutterstock.com
Spotify
has launched a new shared-queue feature, called 'Group Session', that allows more than one Premium user to control music being played in real-time.
The music-streaming platform already offers
Collaborative playlists
for friends to add, delete and reorder songs of a playlist, as well as
Family Mix
for Spotify Premium Family plan members to work on their very own playlists.
However, the new Group Session feature will allow Premium users to listen to music in real-time, which comes in handy as people stay at home during the
coronavirus pandemic
. Participants can select tracks for all users to listen at the same time and contribute to the group's collaborative playlist, as well.
To access the feature, the "host" user will have to click on the Connect menu on the bottom-left corner of the Play screen and share the available scannable code for their "guests" to join in.
Once guests scan in the code, they will be able to use Spotify's controls to pause, play, skip and select songs on the queue and add tracks to be played next. Each user's edits will be displayed across the participants' devices.
Spotify has also
unveiled
playlists created by artists, such as Selena Gomez, Dolly Parton, Lil Yachty and Normani, who have shared
music they have been listening to over the quarantine period.
From their homes to yours We're #ListeningTogether to playlists from your favorite artists https://t.co/dXexXAl8vU

Featuring @DollyParton, @selenagomez, @lilyachty, @KianaLede, @Normani, @lildurk, @sofitukker, @AlecBenjamin, @madisonbeer, @kanebrown, and @palomamamicl pic.twitter.com/jX3SgN9W6N
— Spotify (@Spotify)
April 23, 2020
[via
TechCrunch
, cover image via
Kaspars Grinvalds / Shutterstock.com
]