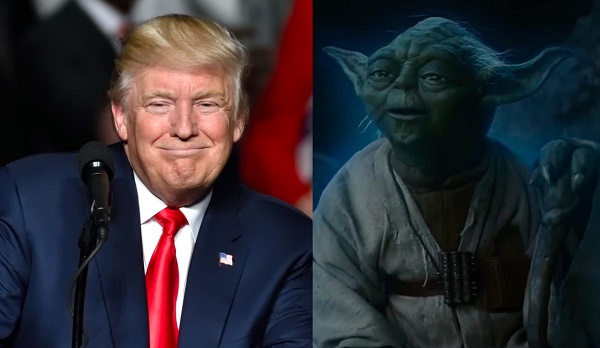 Left image via Evan El-Amin / Shutterstock.com, right image via IMDb
Star Wars fans are flabbergasted at an official video by Donald Trump's team that incorporates the iconic franchise in an attempt to get people to re-elect him as president.
Trump's re-election campaign team tweeted a bizarre clip of the president as Yoda decapitating cable news networks. The video was shared on 4 May, also known as
Star Wars Day
, and features a scene from Star Wars: Episode III Revenge of the Sith.
The video starts off with Joe Biden's face superimposed on that of Emperor Palpatine as he directs a clone trooper labeled with a CNN logo. The clone trooper is tasked to execute Order 66 to kill the Jedi.
The CNN clone trooper, together with a MSNBC clone tropper, approached Trump, whose face is placed over Yoda's. Trump then decapitates both troopers using a lightsaber.
"May the 4th be with you!" the team captioned the video. The odd footage, which has garnered over 200,000 views, has not been sitting well with Star Wars fans. They have called on Disney to see if the video has breached copyright laws.
May The 4th Be With You! pic.twitter.com/TdFY5ojlgN
— Team Trump (Text TRUMP to 88022) (@TeamTrump)
May 4, 2020
@Disney are you ok with #TraitorTrump using your movies to promote violence against the media? Are you OK with the next Kashogi being on US soil?

Just asking...
— Merv DeGriff (@MervDeGriff)
May 4, 2020
I do hope Disney can and will do something to stop this ridiculous and stupid use of Star Wars characters, in a desperate attempt to portray trump as Yoda
— Richard Iannacone (@RichIannacone)
May 4, 2020
I hope @Disney sends Trump a cease and desist on that disgusting Star Wars themed video he shared.

This man is so deeply disturbed it's scary. This is Hitler 2.0 all over again.
— 🦄The Great & Powerful Oz (@OFemmeFataleZ)
May 4, 2020
[via
B&T
, opening image via
Evan El-Amin / Shutterstock.com
,
IMDb
]