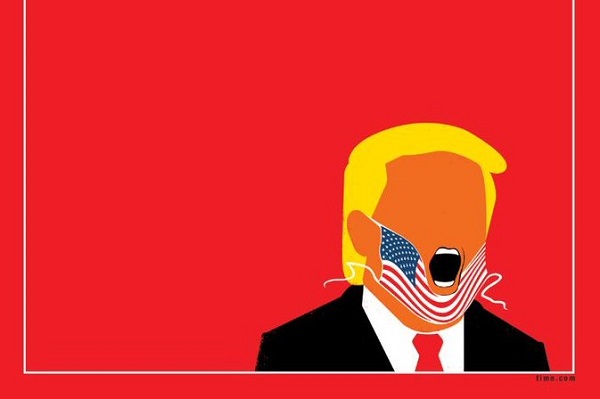 Donald Trump appeared to be "screaming" on TIME magazine's May issue.
Illustrated by artist
Edel Rodriguez
, the president is seen yelling while a Stars and Stripes mask is portrayed covering his face instead of his mouth.
"There's a right way to reopen America. This isn't it," the headline states.
TIME's May issue explores Trump's apparent mishandling of the
coronavirus
pandemic, and how he had announced to reopen the economy despite public health experts advising him not to.
The cover story, titled,
There Are Sensible Ways to Reopen a Country. Then There's America's Approach
, also explains how easing lockdown restrictions in states can make "matters worse" as the lockdown aims to slow the "spread of contagion."
Last month, TIME featured "heroes on the front lines" on the cover of its entire issue. The publication selected nurses, doctors and other essential frontline workers to front its covers.
View this post on Instagram
Over the past 14 weeks, 84,000 Americans have died of COVID-19. That's 28 times the death toll of the 9/11 terrorist attacks, more than the U.S. combat deaths in the Vietnam War, and one-quarter of the total global casualties from the #coronavirus pandemic. At the same time, the national lockdown designed to halt the spread of the disease has pushed 33 million Americans out of work, forced hundreds of thousands of small-business owners to board up their shops and left 1 in 5 children uncertain where they'll find their next meal. As the death toll has rung out against a crescendo of economic despair, Americans have had no time to mourn. Instead, we have been pulled into an increasingly heated debate that pits those twin tragedies against each other. Eager to juice the economy before the November election, President #Trump is pushing hard for businesses to reopen. But public-health officials are raising the alarm. It didn't have to be this way. Read more at the link in bio. Illustration by @edelrodriguez for TIME: animation by @brobeldesign
TIME's new cover: There are sensible ways to reopen a country. Then there's America's approach https://t.co/Il7plhj6Bx pic.twitter.com/BzQPR4zpN3
— TIME (@TIME)
May 14, 2020
TIME's new issue: Meet the heroes of the front lines https://t.co/hEu48cMdIK pic.twitter.com/1goLm6mJmb
— TIME (@TIME)
April 9, 2020
[via
HuffPost
, opening image via
TIME
]