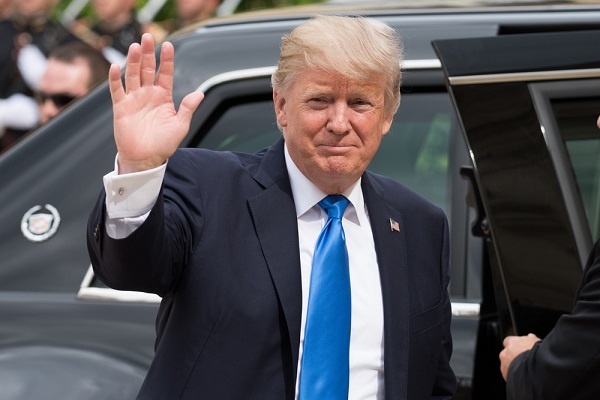 Image via Frederic Legrand - COMEO / Shutterstock.com
Donald Trump
was seen in a mask
at a Ford Motor factory in Michigan yesterday.
He wore his personalized face mask while he was at the back area of the factory, where he was requested to don it, but took it off when he started to tour the area.
Trump showed off his navy blue face covering that had the presidential seal on it. He even wore goggles, but he took it off as he didn't want to give the media the "pleasure" of seeing him wearing one.
"I wore one in this back area. I didn't want to give the press the please of seeing it," Trump told reporters during the tour. "I had the goggles and the mask."
Trump has been reluctant to wear a face covering and it has been reported to have sent a wrong message amid the
coronavirus pandemic
, that killed close to a
100,000 US citizens
.
After the tour, Ford Motor Company released
a statement
from its executive chairman, saying the president was asked to wear a mask.
"Bill Ford encouraged President Trump to wear a mask when he arrived. He wore a mask during a private viewing of three Ford GTs from over the years. The President later removed the mask for the remainder of the visit," the company said.
Michigan attorney general Dana Nessel told
CNN
, "He is a petulant child who refuses to follow the rules. This is not a joke."
Check out Trump being photographed wearing the face covering
here
.
Reporter: Mr. President, why did you decide not to wear a mask?

Trump: "Well, I did. I had one on before. I wore one in this back area. But I didn't want to give the press the pleasure of seeing it." pic.twitter.com/KMLZQEFTA4
— Breaking911 (@Breaking911)
May 21, 2020
[via
Inquisitr
, opening image via
Frederic Legrand - COMEO / Shutterstock.com
]