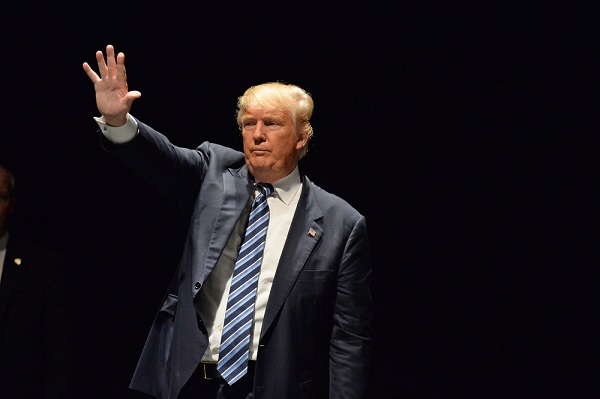 Image via Gino Santa Maria / Shutterstock.com
Donald Trump has unveiled the official flag of the Space Force, the newest branch of the military.
The president held a ceremony at the Oval Office where the flag was unfurled, as he signed a proclamation indicating Armed Forces Day alongside military senior leaders.
"We've worked very hard on this and it's so important from a defensive standpoint, from an offensive standpoint, from every standpoint there is," Trump said.
The flag is dark blue and white, which represent "the vast recesses of outer space." It also has an elliptical orbit with three large stars that symbolizes the Space Force's purpose of "organizing, training and equipping."
The flag design comes from the Space Force's seal, which was approved by Trump back in January. The imagery angered
Star Trek
fans, as many thought it looked similar to the symbol from the franchise.
During the presentation of the flag, Trump also touched on the development of the US' military asset. "We have, I call it the super-duper missile," Trump said, explaining that it would be able to travel "17 times faster than what they have right now."
As President @realDonaldTrump signed the proclamation in honor of Armed Forces Day, the Space Force flag was presented for the first time in the Oval Office! pic.twitter.com/ZiI3G0uWwP
— The White House (@WhiteHouse)
May 17, 2020
Presenting the flag of the United States @SpaceForceDoD! 🇺🇸 pic.twitter.com/oArAfZtDxG
— The White House (@WhiteHouse)
May 16, 2020
This is the first new official U.S. military flag in 72 years. pic.twitter.com/m6OKJbbXmE
— The White House (@WhiteHouse)
May 16, 2020
The U.S. Space Force unveiled its service flag on Friday, when top Pentagon officials presented President Donald Trump with the sixth military branch's officials colors during a private Oval Office ceremony marking Armed Forces Day. https://t.co/E02gA5JRXI
— Stars and Stripes (@starsandstripes)
May 15, 2020
[via
NPR
, opening image via
Gino Santa Maria / Shutterstock.com
]