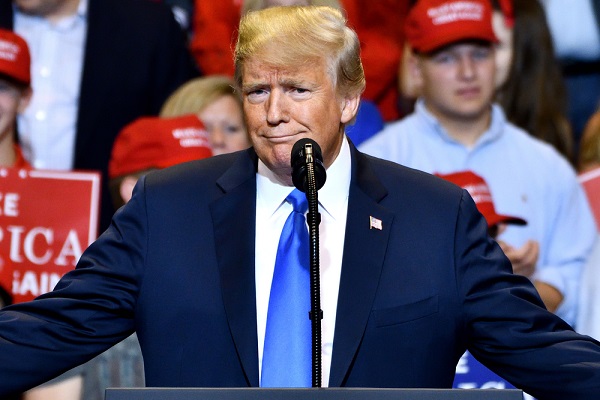 Image via Evan El-Amin / Shutterstock.com
A graphic 'TIME magazine' cover featuring US president Donald Trump has been confirmed by the publication to be fake.
The artwork, which is fronted with a "TIME… to go" headline, is matched with a silhouette of Trump exiting a dark room. Due to its controversial nature, it went viral on Twitter, but
Reuters
has since reported that the image is "manipulated" and "does not represent an actual TIME cover."
The doctored cover uses the media outlet's name along with the text, "to go," proposing that Trump should leave the office.
Reuters' fact-checking team points out that the image features several details inconsistent with original TIME covers, including a missing date of issue on the top-right corner and a "TIME.com" stamp on the bottom right of the page.
A spokesperson for TIME magazine has also confirmed in an email to Reuters that the cover is "not authentic."
In addition, the cover cannot be found in TIME's
archive
, though it might have been modified from a version of
a similar design
.
Congratulations, Donald J Trump!
You made the Cover of TIME Magazine, again and Boy, isn't it a doozy!!!
Posted by
Harvey C Jenkins
on 
Thursday, May 7, 2020
[via
Reuters
, opening image via
Evan El-Amin / Shutterstock.com
]