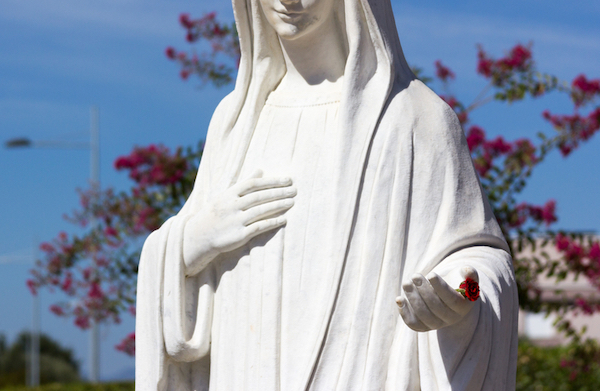 Image via Adam Jan Figel / Shutterstock.com
It looks like the apple doesn't fall far from the tree, even for biblical figures.
Dublin locals were taken aback after a statue outside the Leo Fitzgerald House, thought by generations to be a depiction of the Virgin Mary, had hilariously turned out to be a monument of Jesus Christ after deep-cleaning.
Motivated to spring-clean and wipe down every nook and cranny due to the
COVID-19 pandemic
, the community adopted intense cleaning measures and decided to additionally polish the iconic statue, which has been a "point of reference" for the area for years, according to
LADbible
.
To residents' surprise, the supposed image of the Holy Virgin was, in fact, a filthy statue of her son Jesus.
Local Louise Dowdall described the transformation to
Dublin Live
as the "Immaculate Deception," a play on the Virgin Mary's Immaculate Conception of Jesus. The resident added that "everyone" in the community, even "the older residents," had thought the monument was created in the likeness of Virgin Mary.
Residents have since reported being confused about where to meet after the thorough cleanup. Dowdall recounted a man who had said to meet at "the Mary statue," only to receive the response, "There is no Mary statue."
View this post on Instagram
Little job for the residents of leo Fitzgerald House.
[via
LADbible
, images via various sources]