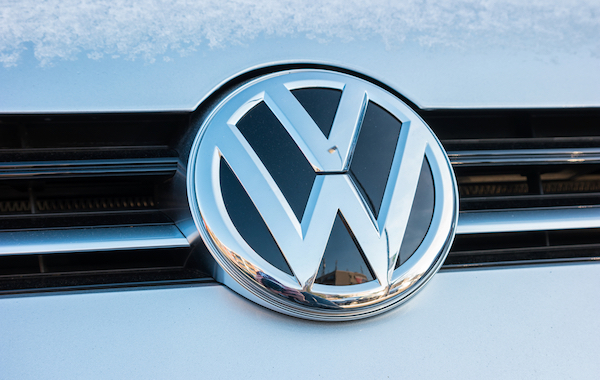 Image via r.classen / Shutterstock.com
Volkswagen has apologized for a social media campaign that raised widespread criticism for portraying racist overtones.
One of the commercials for the VW Golf 8 by Volkswagen Buenos Aires, meant to depict a cheerful romance between a dark-skinned man and a white woman, had instead left little to be desired.
It showed the male being moved around by the hands of the white woman, replicating a TikTok trend where one person would "maneuver" the other using their hands. She then flicked him towards Petit Colon, or "Little Colonist," a real café near a building named after Christopher Columbus.
All the while, cheery music and a comedic soundtrack could be heard in the commercial.
Viewers also caught sight of the word "neger"—the German term for the n-word—appearing before a line of text spelled out "Der Neue Golf" ("The New Golf").
Volkswagen initially disproved negative comments, saying that it was "surprised and shocked" that the campaign "could be so misunderstood," according to the
BBC
.
It later ate its words and admitted the messages conveyed were inappropriate, adding that it would investigate how the spot was produced. The commercial has since been taken down along with an apology from Volkswagen.
"We fully understand the disgust and anger in response to the video," the company shared. "It is quite clear that this video is wrong and distasteful. We firmly distance ourselves from the video and apologize sincerely."
While Volkswagen was founded by Nazis before World War II, the German automaker said it has since "positioned itself as a company that does not tolerate any form of racism, xenophobia or discrimination."
In der neuen #VW-Werbung wird rein zufällig ein schwarzer Mann von einer weißen Hand hin und her geschubst und anschließend in ein Haus mit der Überschrift "petit colon" geschnipst. Die ersten eingegeben Buchstaben ergeben das N-Wort. Ich könnte kotzen. pic.twitter.com/XnqSM41IIQ
— Felix Edeha (@FelixEd93)
May 19, 2020
VOLKSWAGEN racist ad explained: Black man stands by VW car. A white hand pushes him away and 'flicks' him into restaurant 'Petit Colon' ('Little Colonist' in French). Then German-language slogan "Der Neue Golf" (The New Golf) appears w/letters spelling 'NEGER' (German for N-word) pic.twitter.com/S3G9o2fY1I
— FDMillet (@FrancisDMillet)
May 20, 2020
[via
BBC
, cover image via
r.classen / Shutterstock.com
]