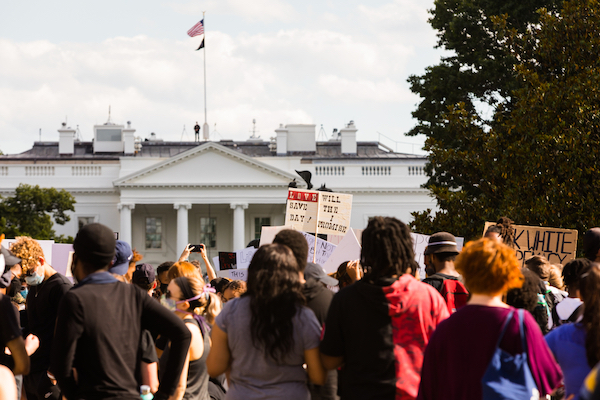 Image via christianthiel.net / Shutterstock.com
In what is believed to be the first time in almost 19 years, the White House bunker—officially called the Presidential Emergency Operations Center—was occupied by White House staff and residents on Friday. US president Donald Trump was rushed into the shelter as protesters swarmed outside the building to decry the brutal killing of
George Floyd
.
While it's unlikely you'll find photos of Trump finding cover in the emergency room any time soon,
Gizmodo
has unearthed images released by the
US National Archives
of White House staff taking shelter in the bunker after the 9/11 attacks in 2001.
It is purported that the underground bunker—built beneath the East Wing of the White House under Franklin Delano Roosevelt's presidency in World War II—was last used by George W. Bush's family and staff members during the attacks on 11 September 2001. President Bush himself was not present, as he was in Florida.
The area reportedly wasn't in use under Barack Obama's administration, though some believe the bunker had undergone renovation between 2010 and 2012 as
US$375 million
was used for an upgrade at the White House.
In images published by the National Archives in 2015 and 2016, Bush's senior staffers, including Vice President Dick Cheney, his wife Lynne, and National Security Advisor Condoleeza Rice, can be seen pooling together to strategize after the terrorist attacks.
It is also protocol for immediate family members protected by the Secret Service to be moved to the Presidential Emergency Operations Center, as security personnel had done with First Lady Melania Trump and Barron Trump, according to a report by
CNN
. The media outlet cited two sources who were aware of the First Family's activity during the weekend.
Similarly, former First Lady Laura Bush was relocated to the underground bunker by the Secret Service after the attacks in 2001. She recounted in her
memoir
, "I was hustled inside and downstairs through a pair of big steel doors that closed behind me with a loud hiss, forming an airtight seal."
Laura Bush said she was then taken to "unfinished subterranean hallways," ushered across "old tile floors" surrounded by mechanical equipment, and finally settled in the conference room, which she described as the shelter's "nerve center" containing "a small room with a large table."
The former First Lady also detailed that the underground shelter was designed to serve as an emergency command center, and comprised "televisions, phones, and communications facilities."
[via
Gizmodo
, images via various sources]