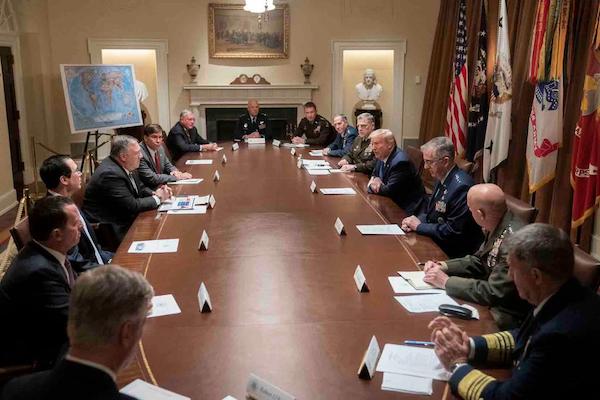 Image via The White House
Business is per normal at the White House, and perhaps a little too normal.
On Saturday, the White House tweeted a photo depicting Donald Trump's meeting at the Cabinet Room with US secretary of state Mike Pompeo, secretary of defense Mark Esper, senior military leaders and his national security team.
Without context, the image might seem A-okay—but there's the
COVID-19
situation going on, and the longer internet users look at it, the more they're affirmed it shouldn't look this ordinary.
As
Indy100 pointed out, the photo was captured a day after Mike Pence and Ivanka Trump's leading aides had both been diagnosed with the coronavirus, which means some of the men in the room would have had direct contact with them and should be self-isolating.

Further, Twitter users noted that the "Petri dish" of team members weren't following the government's
own social distancing regulations
within the enclosed room, and weren't even wearing masks.
"No wonder the White House is a hotspot for coronavirus," one Twitter user wrote.
Last of all was a critique that transcends the pandemic. Internet users were concerned about how the photograph was filled with white men, as if there are no people of color or women in power.
"This photo could have been taken in 1955," tweeted Clyde Haberman, former columnist and editorial writer at The New York Times. "The good news: women and people of color are not exposed to these carriers," suggested political scientist Steve Saideman.
At least they have a "nice map," though the use for it in the middle of a health crisis has been questioned, too.
President @realDonaldTrump met with Secretary @EsperDoD, @SecPompeo, senior military leadership, and national security team members in the Cabinet Room today. pic.twitter.com/C4Yr2CMeLR
— The White House (@WhiteHouse)
May 9, 2020
No masks. No social distancing. No wonder the White House is a hot spot for Coronavirus
— joan (@Joan_In_Ohio)
May 9, 2020
WHERE ARE THE MASKS https://t.co/JMHyXgpP9P
— Dr. Seema Yasmin (@DoctorYasmin)
May 10, 2020
The good news: women and people of color are not exposed to these carriers. https://t.co/gjCJfN0Fqn
— Steve Saideman (@smsaideman)
May 10, 2020
No masks, no social distancing, no head of Navy, no diversity, and a nice but perhaps not useful map
— Barbara Starr (@barbarastarrcnn)
May 10, 2020
All 14 people in this photo are white men https://t.co/6O7nRcPeQh
— Aaron Rupar (@atrupar)
May 10, 2020
No masks, no social distancing. And also no women or people of color? https://t.co/cWZHDLJoRU
— Carla Marinucci (@cmarinucci)
May 10, 2020
This photo could have been taken in 1955. https://t.co/uUWRj1Guz3
— Clyde Haberman (@ClydeHaberman)
May 10, 2020
I'm dying, what is that map for https://t.co/MeyKsyoXmE
— Jason Wojciechowski (@wearyhobo)
May 10, 2020
Nice Petri dish. Cabinet room is fairly small and confined, air-conditioned; mature men; minimal social distancing; no masks https://t.co/27mceLNpH6
— François Heisbourg (@FHeisbourg)
May 10, 2020
So proud of the diversity of hair styles here: brown, white, black, grey, receding, bald. American greatness. https://t.co/X9NquuhEwB
— Dr. Esther AT LEAST WEAR A MASK Choo (@choo_ek)
May 10, 2020
[via
Indy100
, images via
The White House
]