Facebook was down for many of us today, and it wasn't pretty. As a public service to our loyal audience, we felt the need to cover the outage as comprehensively as possible on Twitter. In an effort to offer perspective on these sad several hours in Internet history, we offer our top suggestions for occupying your time in the event the unthinkable happens again.

Ten Things to Do When Facebook is Down
Rekindle your relationship with productivity, hygiene.
Call one of your 5,000 Facebook "friends" on the phone, enjoy the awkward silence.
Bring down Twitter with incessant "Facebook is down" tweets. Cue apocalypse!
Did somebody say crochet party?
Experiment with offline poking. Keep your lawyer's number handy.
Take a Digg "power user" to dinner. Bring extra cash.
Party crashing with Michael Arrington!
Go to the grocey store. Your Farmville vegetables are rotting and you're looking frail.
Follow us on Twitter. And when it's back up, Facebook!
Write a post just like this and watch the pageviews pour in!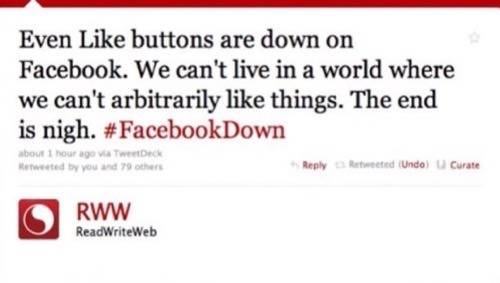 The post 10 Things to Do When Facebook is Down appeared first on ReadWrite.