Sonoa Systems is changing its name to Apigee. Apigee is the free API

tools platform provided by Sonoa.

As part of the change, Apigee will now offer three product lines to serve the enterprise,

developers and API providers. The biggest change comes with the extension of its free platform to provide advanced features for API providers.
The services will be available " a la cart," as self-serve add-ons to the free platform. The services will start at $50 per month. It is designed to serve the growing market of API providers, ranging from startups to the thousands of applications, websites, and services now providing APIs.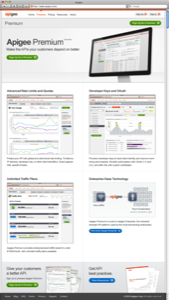 Apigee, like many API platforms, is going through a pretty strong growth cycle. We see it with services such as Engine Yard, Heroku and Mashery, the pioneer of the market. It is a reflection of the overall market, that is focused on apps, distributed systems, big data and a network that ranges from the mobile phone to retail kiosks.
Sonoa had historically provided API services for enterprise customers. Customers include IBM, MTV and Comcast. Apigee will continue to provide these services in addition to the new premium offering. The free service will continue as part of what Apigee provides.
Apigee focuses on run-time, so API providers may scale the services they provide. This approach is reflected in the new premium services, which includes unlimited API traffic; advanced analytics; management for IT policies and OAuth support.
The post An API Services Provider Takes on the Name of its Free Platform appeared first on ReadWrite.