Pew Research Center's Project for Excellence in Journalism released a study today examining the media's ambivalent approach to addressing technology finding that, among other things, the positive effects of technology on productivity just barely edge out privacy concerns as the most common theme in technology coverage.

According to Pew, the research suggests that "the press reflects exuberance about gadgets and a wonder about the corporations behind them, but wariness about effects on our lives, our behavior and the sociology of the digital age."
The most common theme in technology coverage, that "technology is making life easier and more productive", comprised nearly a quarter of stories, with privacy coming in at a close second, making up a fifth of stories.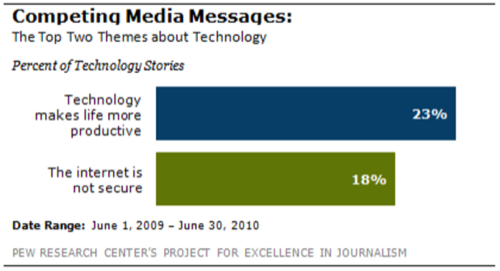 Beyond general themes, the report finds that Apple dominates tech news, with the company accounting for 15% of stories. Google came in a close second with nearly 12% of all stories. Twitter, Facebook, and Microsoft all followed.
The report also stood behind Twitter's claims that it was becoming a news distribution vehicle – especially in the case of technology news. In mainstream media, technology news accounts for 2% of all news, whereas on Twitter a full 51% of the top linked-to news stories each week were related to technology.
Of stories linked on Twitter, Twitter itself was the most popular topic, accounting for 15%, with the iPhone coming second with nearly 8% of stories. According to the report, "more than any other subject, Twitterers posted news from the business side of technology. Almost a third (30%) of the top stories focused on companies or the business aspects of the industries, versus just 9% in the mainstream press."
The full report is available online.
The post Apple, Google, Privacy, Productivity: Tech News In a Nutshell appeared first on ReadWrite.