Applications are being accepted now for the 4th Annual PITCH: Women 2.0 Startup Competition. The competition is open to any early-stage venture that's still in beta stage and has yet to receive significant funding. Applying teams must have at least one women and one technologist (engineer, scientist, etc) on the founding team.

To enter the competition, submit your application, your "napkin business plan," and film a quick video pitch. The deadline to apply is October 1.
All entries will receive written feedback from the judging panel of investors and executives.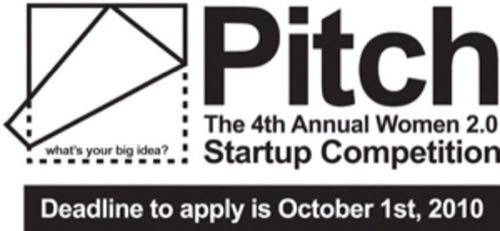 As the competition follows Steve Blank's argument that "startups plan while companies model," the competition is focused on business models rather than business plans. According to organizers, "judging is based not on just the initial business model but what the team learned by pivoting, for example, avoiding the 'beauty content of business plans where judges resort to choosing the best 'paper exercise' plan (rather than the best business or the team that has made the most progress in figuring out the product-market fit)."
Finalists will be chosen to pitch live in San Francisco on the 4th Annual PITCH Night on November 4. And the winners will receive investor meetings with EDventure Holdings' Esther Dyson, Kleiner Perkins Caufield & Byers' Matt Murphy, FLOODGATE's Mike Maples, and AngelList's Naval Ravikant. Winning teams also receive a number of other services to help jumpstart their startups.
The mission of Women 2.0 is to help "establish a founder history" among a diverse group of entrepreneurs and to increase the number of female founders. And along with the PITCH competition, Women 2.0 sponsors a series of monthly networking events, as well as a pre-incubator program.
The post Apply Now for Women 2.0's Pitch Startup Competition appeared first on ReadWrite.