Tecca, a new mobile comparison shopping application, is the first company to launch from the digital media fund set up by electronics retailer Best Buy with Fuse Capital. The app focuses only on electronics, which makes sense, given its backing. Available now on both iPhone and Android with both a tablet app and mobile website in the works, Tecca offers pricing information, ratings, reviews and even a barcode scanner.
Ross Levinsohn, Tecca chairman and managing director at Fuse Capital, describes the app as a free "virtual concierge." It includes an editorially selected, curated collection of product reviews pulled from around the Web, enabling consumers to "make confident decisions about personal technology and electronics, whether they're purchasing new products or making the most of the devices they already own," he says.
How Tecca Works
To use the newly available smartphone applications, you just aim the phone's camera at a barcode and scan, or you can search or browse through product selections instead. Once you have a particular product pulled up, you can delve further into detailed descriptions, read reviews and view user ratings. You can also access a slide show of product photos, find out what's included in the box, read product specs, add items to a wishlist or even buy directly from within the app itself.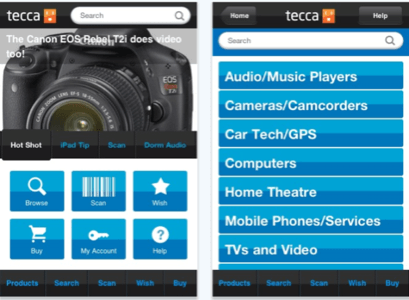 But perhaps the app's most important feature is price comparisons. According to the app's description in iTunes, Tecca will compare prices between "top-rated online retailers." Obviously, one of the retailers consistently listed throughout the app is Best Buy. On some occasions, for example, within the laptops section, we found that Best Buy was the only retailer listed, or was only one of two. It's hard to say if that's just because the app's pricing database is still in the process of being built or if the app is designed to promote Best Buy and its exclusive deals more than its competition.
That said, assuming you are shopping at Best Buy, as many do when looking for electronics, the app would definitely come in handy, especially since blue-shirted staff members are almost always busy when you need them, but are never busy when you just want to quietly browse alone. Tecca would at least let you get some of your basic questions answered without a salesperson's help as you're struggling with your shopping decisions.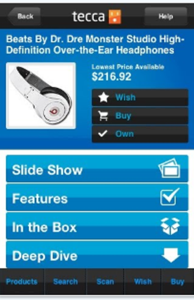 The app itself is well-designed – navigation is simple and straightforward, fonts are large and easy-to-read and there are useful filters and sorting mechanisms tucked away that let you quickly and easily refine your results.
Tecca's Competition
Tecca goes up against a number of other barcode-scanning and price comparison engines, including Microsoft's Bing app, Amazon.com's mobile app, RedLaser and ShopSavvy to name a few, the latter which helps you compare prices both online and locally. But Tecca's limited focus, design, ease of use and feature set make it worth the download for serious shoppers. It may not always find you the best deal, but for general fact-finding purposes, it does quite well.
The post Best Buy-Funded Tecca Launches New Comparison Shopping App for Electronics appeared first on ReadWrite.